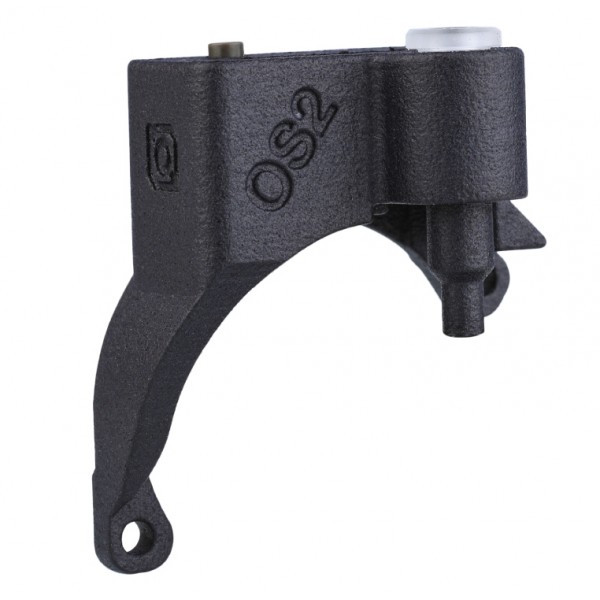  
Orbiter v2.2 Filament Sensor Kit by Robert Lorincz - LDO

Privacy Policy

Delivery Policy

Terms and Conditions
Orbiter Extruder V2.0 Filament Sensor
Multi-functional addon for the Orbiter V2 direct drive extruder motor. Features filament runout detection and push button filament load/unload.
1x sensor PCB
1x sensor housing printed in MJF slack
1x clear pc light guide
2x 6mm stainless steel
2x M3x20 BHCS
4x M3 washers (m3x6x0.5)
2x M3 nuts
1x wiring harness
AOverview :
"Before I reached this solution, I tried many sensor types and sensing methods; in the end, this is the final solution I considered most suitable for this purpose.
As you can see in the pictures, it uses a special push-button (like the ones used in computer mice, rated to over five million clicks). When the filament is inserted, the 6mm steel ball pushes the button triggering a filament presence sensing. This is information is used in the firmware to launch a macro to auto-load the filament.
The unload button is connected to an input of the control board which is configured to trigger an event which starts the unload macro.
TBicolour LED to show status as follows:
Red – no filament detected
Green – filament present
Orange – unload button is pressed (only when the filament is present)
Please note that the filament sensing button is not a standard TACT switch. It has a different internal construction. The button movement range is about 0.7mm, the output contact is engaged @ about 0.3 mm and released @ about 0.2mm."
The New


Orbiter V2.2 Filament Sensor

Red – no filament detected

Green – filament present

Orange – unload button is pressed

(only when the filament is present)