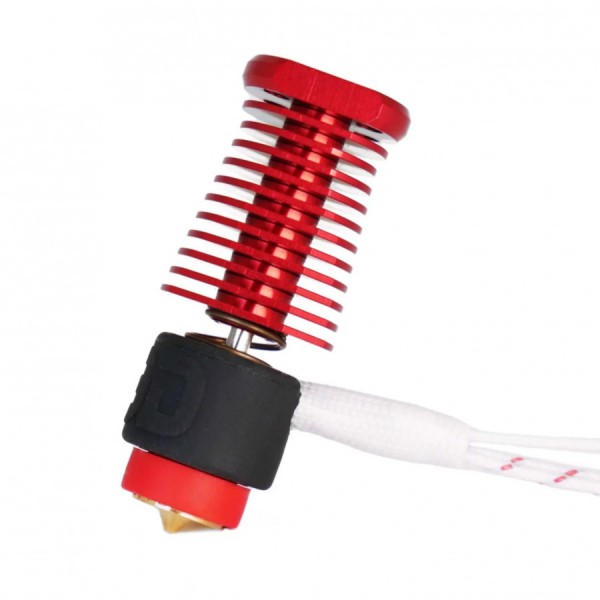  
E3D Revo 6 Rigid - for ZLC, Voron Single Nozzle 3D Printer Hotend
E3D Revo Rigid Mount with 0.4 Nozzle

Privacy Policy

Delivery Policy

Terms and Conditions
It's compatible with E3D Revo ecosystem, so you can change nozzle size without tools or hot tightening using just your fingers.
Uses Revo Nozzles – change nozzles cold, no tools, no hot tightening
Works with a Revo HeaterCore for faster heat-ups
Rigid mounting using 4 x M3 x 0.5 bolts
Ultra-lightweight construction for improved speed performance
Ideal HotEnd for Voron StealthBurner
The heatsink is licensed under GPL V3
Ready for Revo. A groove at the bottom of the sink accepts a Revo HeaterCore spring. It's compatible with our Revo ecosystem, so you can change nozzles without tools or hot tightening using just your fingers.
Rigid mounting. This is a rigid mounted design that uses four M3 x 0.5 bolts to secure your hotend.
Compatible with: ZLC, Voron 1, 2.4, Trident, Legaacy, Switchwire, 0.1
Open-source design. We've made this cold side (everything above the HeaterCore, including the receptacle for the Revo Nozzle) open hardware licensed under the GPL V3. This means if you have an alternative design for this, you are able to work with it. 
See it in action:
Please note:
- For full mounting instructions and STL files for Voron printed parts visit: https://docs.vorondesign.com/ 
- You may need to adjust your Z offset when changing nozzles.
452431DescriptionBOM IDQtyVoron Sink11Revo Spring21HeaterCore31Silicone Socks41Revo Nozzle51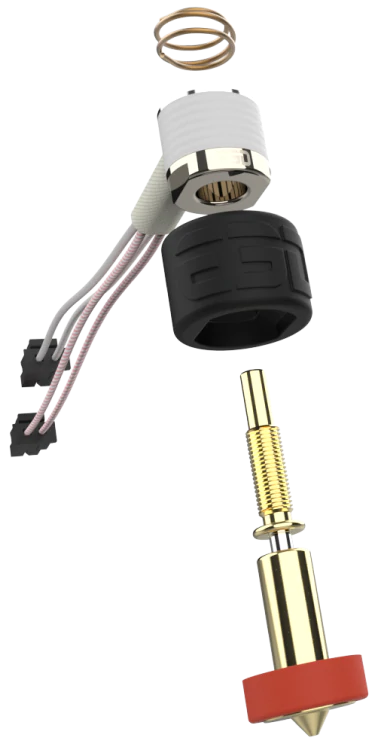 .                   
Experiment freely. With nozzle swapping this easy, you're free to experiment with nozzle sizes you might not have used before. Set your 3D printer up for ultra-fine or ultra-thick extrusion widths in no time at all. Print large objects in less time, or tiny objects with high resolution. 
Frustration-free. Each Revo Nozzle is a preassembled nozzle and HeatBreak in one unit, so there's no hazardous hot tightening and no chance of incorrect assembly. Say goodbye to frustrating HotEnd leaks and enjoy reliable 3D printing! 
Rapid identification. Identify nozzle sizes at a glance thanks to a colour-coded silicone sock. Plus, each Revo Nozzle has its size engraved into it with easy-to-read numbers, so there are no confusing identification markers to learn! 
An expanding range. We're ready to make RapidChange Nozzles in any size. At launch, we're introducing brass nozzles in 0.25mm, 0.4mm, 0.6mm and 0.8mm, with many more compatible nozzles to follow later. Wear-resistant and high flow variants are already on our roadmap and will follow over time.
Key features:
- Material: Brass
- Input diameter: 1.75mm
- Maximum temperature: 300°C
Specific References
UPC

84775900