 
E3D Revo 6 Six Fully Loaded Kit 3D Printer Hotend
A slight shipment delay may occur.
Max Temp 300c.

Privacy Policy

Delivery Policy

Terms and Conditions
No machine redesign. Revo Six is a top choice if you want to update your old E3D V6 setup to the latest generation of E3D HotEnd technology. It has the same height, the same diameter, and the same groove mount as the E3D V6, so it drops straight into V6-fitted machines without the hassle of redesigning print head mounts and accessories. Just fit it, connect the Revo HeaterCore, and you're ready to 3D print. 
Ready for Revo. Revo Six is designed to work with Revo Nozzles, so you can perform nozzle swaps with your fingers at room temperature without complex tools or hot tightening. Each Revo Nozzle is factory sealed, making it much simpler to use and more reliable than most HotEnd technology available today. 
Enhanced performance. Revo Six uses a Revo HeaterCore, our latest HotEnd heating and sensing architecture. It reaches temperature much faster than a traditional aluminium HeaterBlock, and it's much safer: a positive temperature coefficient (PTC) means the HeaterCore can't melt at extreme temperatures, reducing hazards in the event of a thermal runaway. 
A new look. An anodised black heat sink distinguishes Revo Six from its predecessor, and every unit ships with a premium crystal-clear fan duct so your machine will stand out from the crowd.
Compatible with:
Prusa i3 MK2/ MK3 variants (make sure you select the correct voltage for your setup)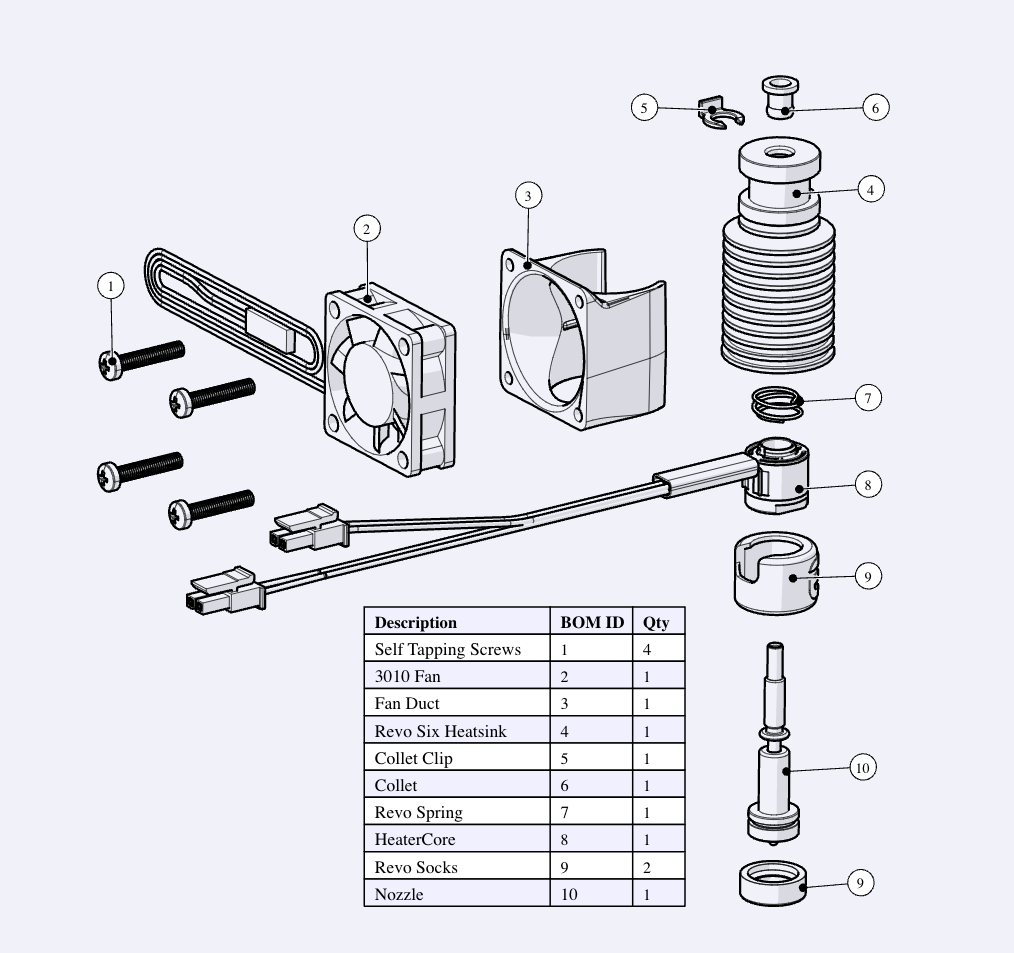 Experiment freely. With nozzle swapping this easy, you're free to experiment with nozzle sizes you might not have used before. Set your 3D printer up for ultra-fine or ultra-thick extrusion widths in no time at all. Print large objects in less time, or tiny objects with high resolution. 
Frustration-free. Each Revo Nozzle is a preassembled nozzle and HeatBreak in one unit, so there's no hazardous hot tightening and no chance of incorrect assembly. Say goodbye to frustrating HotEnd leaks and enjoy reliable 3D printing! 
Rapid identification. Identify nozzle sizes at a glance thanks to a colour-coded silicone sock. Plus, each Revo Nozzle has its size engraved into it with easy-to-read numbers, so there are no confusing identification markers to learn! 
An expanding range. We're ready to make RapidChange Nozzles in any size. At launch, we're introducing brass nozzles in 0.25mm, 0.4mm, 0.6mm and 0.8mm, with many more compatible nozzles to follow later. Wear-resistant and high flow variants are already on our roadmap and will follow over time.
Key features:
- Material: Brass
- Input diameter: 1.75mm
- Maximum temperature: 300°C
Specific References
UPC

84775900