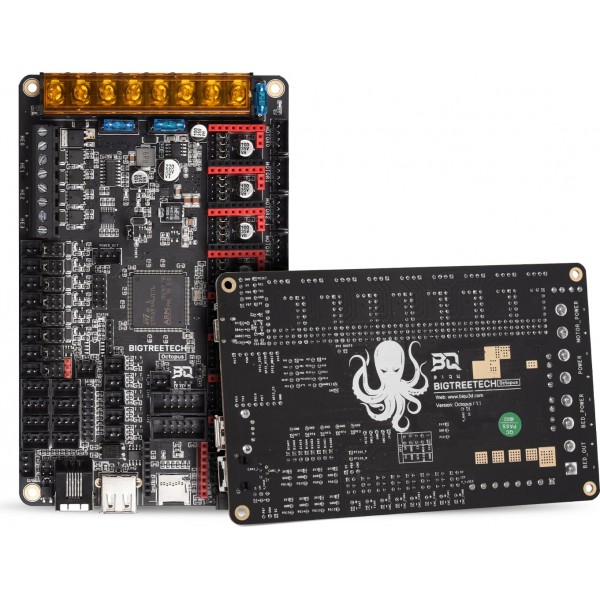  
Octopus PRO (F429) Motherboard 32 Bit Controller Board

Privacy Policy

Delivery Policy

Terms and Conditions
BIGTREETECH Octopus is a very powerful motherboard with 8 stepper driver ports, so this motherboard can control up to 8 different axes. This feature is especially suitable for multicoloured printing and tool changers, for the use of different tools/modules such as different 3D print heads, laser engraving, laser cutting etc. All fantasies and ideas of modifications can be realised.
The mainboard is compatible with Klipper, Raspberry and Marlin open-source software.
180 Mhz ARM-Cortex-M4 CPU
BIGTREETECH Octopus V1.0 uses a 32-bit chip from the ARM Cortex-M4 series STM32F446ZET6 with a core frequency of 180 MHz, which offers enough power to realise even the most demanding applications and ideas.
Firmware upgrade via SD card
Update the configuration firmware from the SD card. This method is simple, convenient, and efficient.
Compatible stepper driver interfaces: SPI, UART, STEP / DIR
Matching screens:
LCD display (LCD12864, LCD2004 etc.)
TFT touch screens
Fan connections:
6 x controllable PWM fans
2 x normal fans
3 x adjustable voltages for the fans (5V, 12V and 24V)
Other interfaces:
8 x stepper driver connections
Raspberry PI Interface
CAN BUS, SPI and I2C for extensions
USB-C
Dual Z-axis
4 x heating cartridge connections
RGB LED
WiFi interface for ESP8266 based modules
BL-Touch and other auto-leveling upgrades
Other features:
Stallguard for sensorless homing
Protected thermistor connections
On-board EEPROM
High power MOSFET
Support of automatic shutdown after printing and resume print