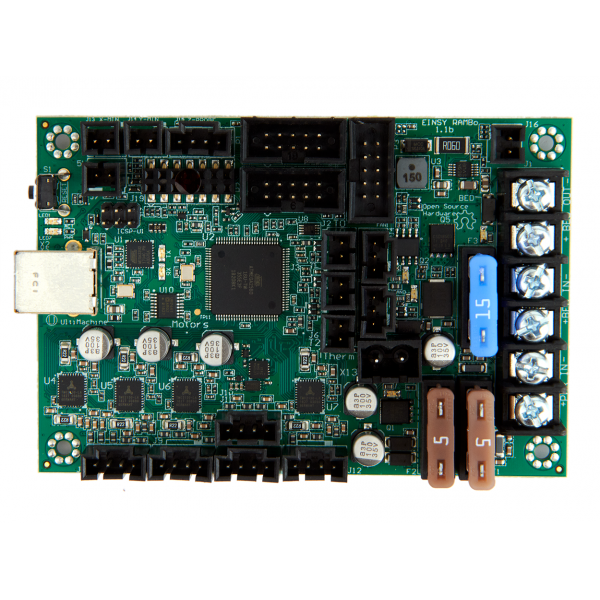  
Einsy Rambo 3D Printer Controller by Ultimachine
For Prusa MK3, Zaribo MK3 or Bear mods

Privacy Policy

Delivery Policy

Terms and Conditions
This is Einsy Rambo 1.1b. The Einsy Rambo board is an all-in-one 3D printer motherboard. It is a compact version of RAMBo v1.3L design with the Arduino MEGA and stepper drivers all on one integrated PCB. A great alternative board if you need just the basics!

Major Features - 4 x integrated Trinamic TMC2130 1/256th micro-step motor drivers, 4 PWM Mosfet outputs, 3 thermistor inputs + ZProbe thermistor, SPI (Serial Peripheral Interface) communicated motor current control (no tiny knobs to tweak), SMPS supports hostless printing on power supply voltages from 10-24V DC, 2 fuse protected power rails (Heated Bed, 15A, and Primary Power 10A 10-24V: Motors & Logic (5A dedicated fuse) + Extruders, Fans (5A dedicated fuse)), LUFA USB, high-quality connectors, did I say hacker-friendly ...


Firmware / Hardware Information -
Einsy Rambo is designed to work with the current RAMPS generation firmware with minimal modifications to add firmware motor current control and the micro-step setting.

Linux and Mac use CDC interface and have hardware driver built-in. Windows hardware driver: RAMBo_USBdriver.zip

A preconfigured Marlin Firmware is preloaded onto the board. To re-flash this board, you can simply use the Arduino IDE with Rambo Addons and set the board to "Rambo". There is an Arduino plugin folder on GitHub that exposes additional pins in the Arduino IDE.

Recommended Power supply 12V-24V DC, 16A+.
Additional information and sources at RepRap.org/wiki/EinsyRambo.  This board is Open Source Hardware licensed GPLv3, so please use, copy, improve, hack, upgrade, and/or contribute.

Designed and assembled in the USA by UltiMachine.