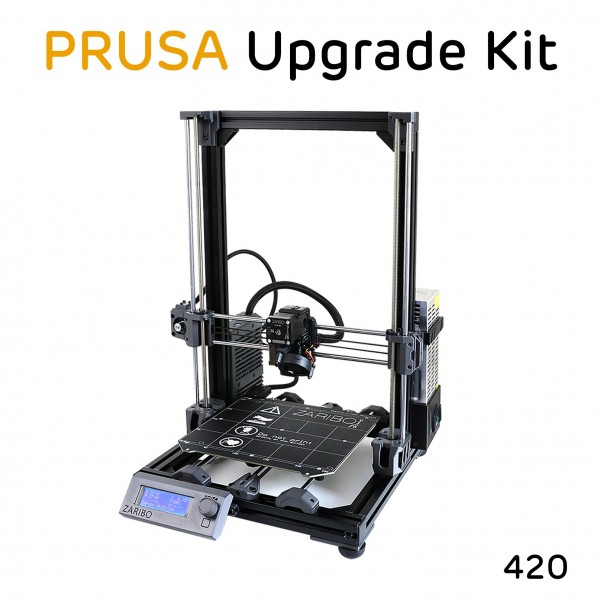  
Prusa MK2, MK2.5(s), MK3(s) to Zaribo 420 Upgrade Kit
420mm Z Axis ZARIBO™ Prusa Upgrade Kit. Shipment in 12-14 Days
Upgrade:
- Prusa MK2 -> Zaribo MK2
- Prusa MK2.5(s) -> Zaribo 2.5(s)
- Prusa MK3(s) -> Zaribo MK3(s) 

Privacy Policy

Delivery Policy

Terms and Conditions
Please download the manual here: https://zaribo.com/blog/zaribo-build-guide-pdf/
This kit allows many different upgrade options:
Prusa MK2 -> Zaribo MK2
Prusa MK2.5(s) -> Zaribo 2.5(s)
Prusa MK3(s) -> Zaribo MK3(s) 

Zaribo 420 upgrade kit contains:
- Misumi extrusions for frame
- Misumi smooth rods for y-axis
- Misumi smooth rods for z-axis
- Misumi T-nuts
- Misumi metal corner brackets
- Misumi slot covers
- Zaribo z-Motors with 520mm lead screws (no POM nuts)
- Screw Kit
- Rubber Feet
- Flex Cable tuning
- Nylon filament for cable management
- GT2 belt
- 2 GT16 toothless pulleys
- Cable extensions
Print height is 420mm.
MK2 users, please note when you use a Rambo Mini (Not Einsy) board we highly recommend adding our MOSFET kit as well. The plug connected to the RAMBO can melt and even damage the board.
Dimensions: Height: 65cm, Width: 40cm, Depth: 46cm