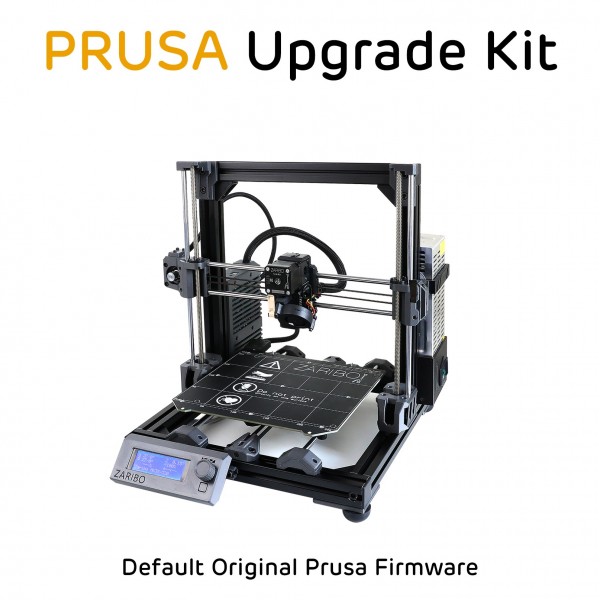  
Prusa MK2, MK2.5(s), MK3(s) to Zaribo Upgrade Kit
ZARIBO™ Prusa Upgrade Kits are being updated

Upgrade:
- Prusa MK2 -> Zaribo MK2
- Prusa MK2.5(s) -> Zaribo 2.5(s)
- Prusa MK3(s) -> Zaribo MK3(s) 

Privacy Policy

Delivery Policy

Terms and Conditions
Please download manual here: https://zaribo.com/blog/zaribo-build-guide-pdf/
This kit allows many different upgrade options:
Prusa MK2 -> Zaribo MK2
Prusa MK2.5(s) -> Zaribo 2.5(s)
Prusa MK3(s) -> Zaribo MK3(s) 

Zaribo 420 upgrade kit contains:
- Misumi extrusions for frame
- Misumi smooth rods for y-axis
- Misumi smooth rods for z-axis
- Misumi T-nuts
- Misumi metal corner brackets
- Misumi slot covers
- LDO z-Motors with 520mm lead screws (no POM nuts)
- all screws
- rubber feet
- Techflex cable tuning
- Nylon filament for cable management
- GT2 belt
- 2 GT16 toothless pulleys
- cable extensions
Print height is 210mm.
Please note when you use a Rambo board we highly recommend to add our MOSFET kit as well. The plug connected to the RAMBO can melt and even damage the board.
Printed parts are available for MK3 Rel 3 only. Printed with 35% infill, 0.2mm layer. Total weight of 1.2kg, print time approx. 100h.

Dimensions: Height: 45cm, Width: 40cm, Depth: 46cm