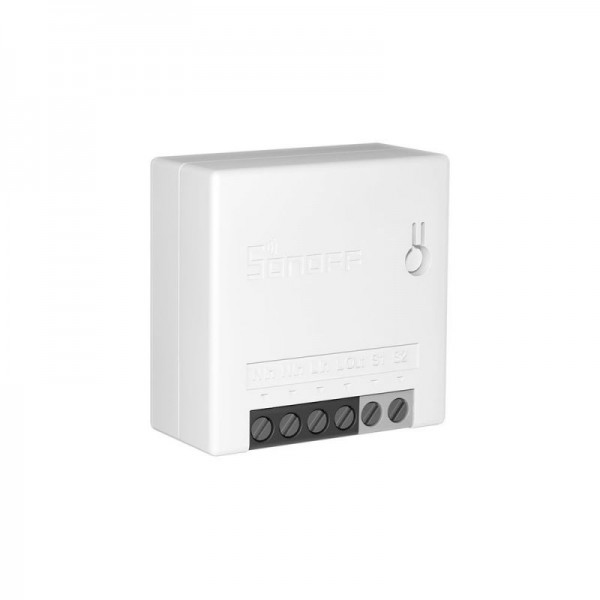  
Sonoff Mini R2 Wifi Power Switch

Privacy Policy

Delivery Policy

Terms and Conditions
The Sonoff MINI is a WiFi-controlled universal switch, built with the ESP8266 chip. It works with the voltage of 230V and makes it possible to control any device anywhere in the world. Thanks to its size it is very mobile and fits in most power supplies.
Description of Sonoff MINI:
Sonoff MINI not only continues the reputable history of Sonoff devices due to its quality and durability but actually brings some revolutionary features to the table as well.
Size
MINI is actually small enough to fit into EU standard switch box without any additional modifications. Hence, it is pretty much comparable with any device and super easy in use. Just follow the instructions and make sure you don´t work on devices connected to the power!
Compatibility with Alexa and Google Assistant
Sonoff MINI works with Amazon Alexa and Google Assistant! And only with a few clicks, you need to:
a) Press eWeLink in Alexa application or Smart We Link in Google Home App
b) Enter your eWeLink password and account details
c) All the devices compatible with voice control will appear in your application, you just need to name them and are ready to control them with Alexa!
Compatibility with DIY smart home systems
ITEAD has developed a simple to use REST API library to connect Mini to your current customized home automation system. You don´t have to worry about compatibility or difficult configuration of your existing installations anymore!
Compatibility with IFTT
IFTTT is a platform/ framework enabling intercompatibility of different APIs and hence devices, enabling cross-platform automation. You can make your devices work with each other without your intervention with IFTTT designing a true automated circuit.