Zaribo Geared Extruder Motor is an experimental DIY mod. It has not been tested by us with any other board and firmware rather than Einsy Rambo and Zaribo/Prusa Firmware. There are many other controllers and printers which runs perfectly fine with Zaribo Geared Motor as far as we have seen.
---
On the picture below, one on the left is printed with the default extruder motor, one on the right is printed with Zaribo Geared Motor. As clearly seen in the picture, the difference is outstanding. The colour difference bands are occurred due to the filament characteristic which is a Prusament PLA.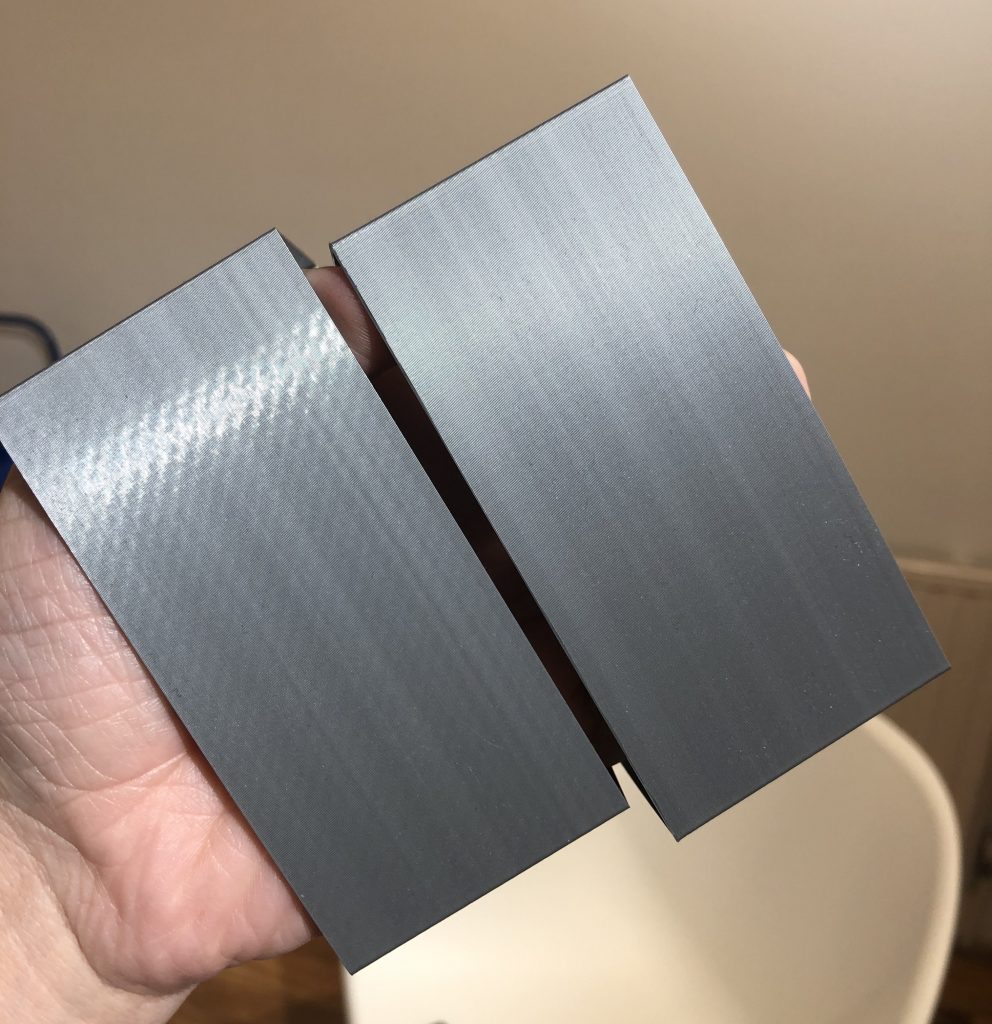 ---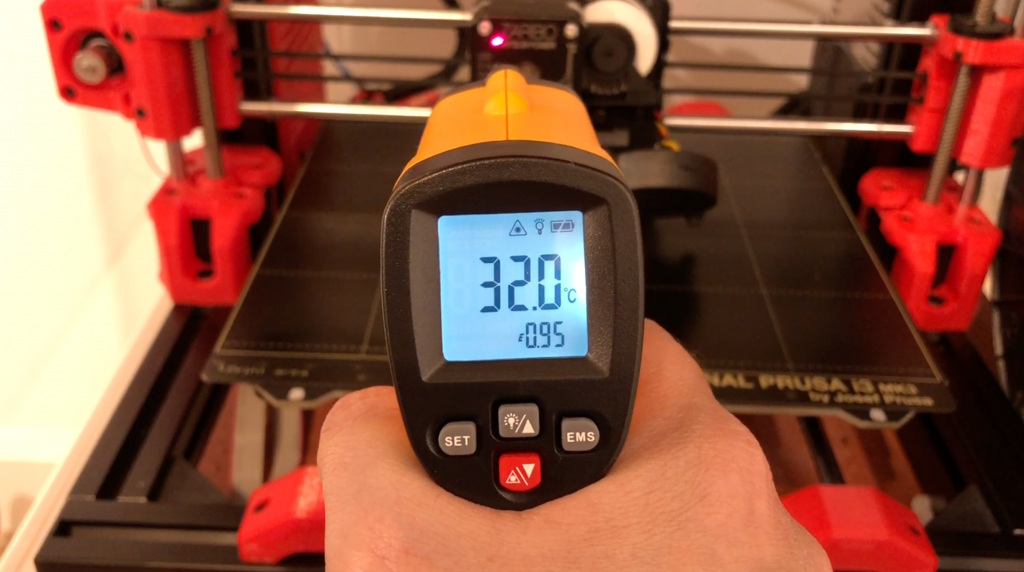 This mode will also overcome the extreme heat issues on your extruder.
---
We have been influenced by BNBSX Extruder by BunnyScience. However, we designed it from scratch. No belt tensioning is required in our design. We overcame the assembly difficulty by adding a swappable screw hole for the motor.

We also got rid of the washer requirement for the wheel. It has an embed washer by design. We also added a 3rd bearing to the front to keep the shaft more straight and strong. Bondtech gears are pushing the shaft due to the nature of its design.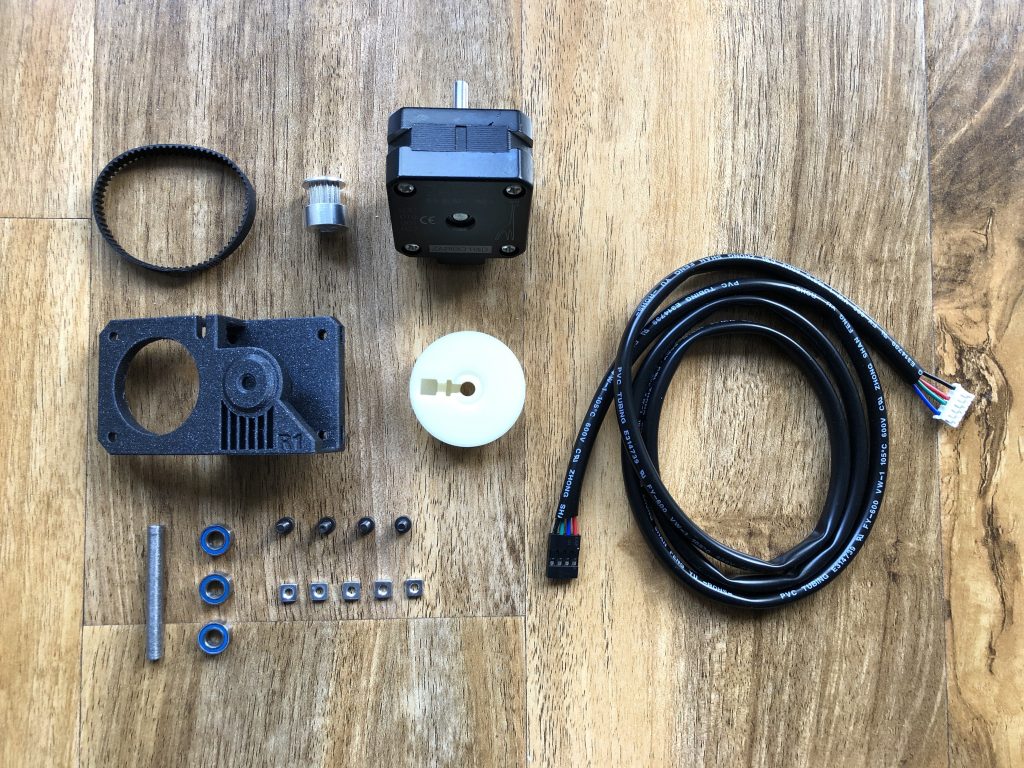 Parts needed:
– Printed Parts: http://bit.ly/330M0w8
– 1 x Zaribo Pancake Motor: http://bit.ly/zaribo-pancake
– 1 x GT2 Timing Pulley: http://bit.ly/gt2-16t-pulley
– 1 x 5mm x 40mm Shaft: http://bit.ly/45mm-D-Shaft
– 4 x M3x8 Socket Cap Screws: http://bit.ly/m3x8mm-socket-cap
– 5 x M3 Square Nuts: http://bit.ly/square-nuts
– 3 x MR105 5x10x4mm Bearings: http://bit.ly/mr105zz-abec-7
– 1 x Loop Belt: http://bit.ly/loop-belt

---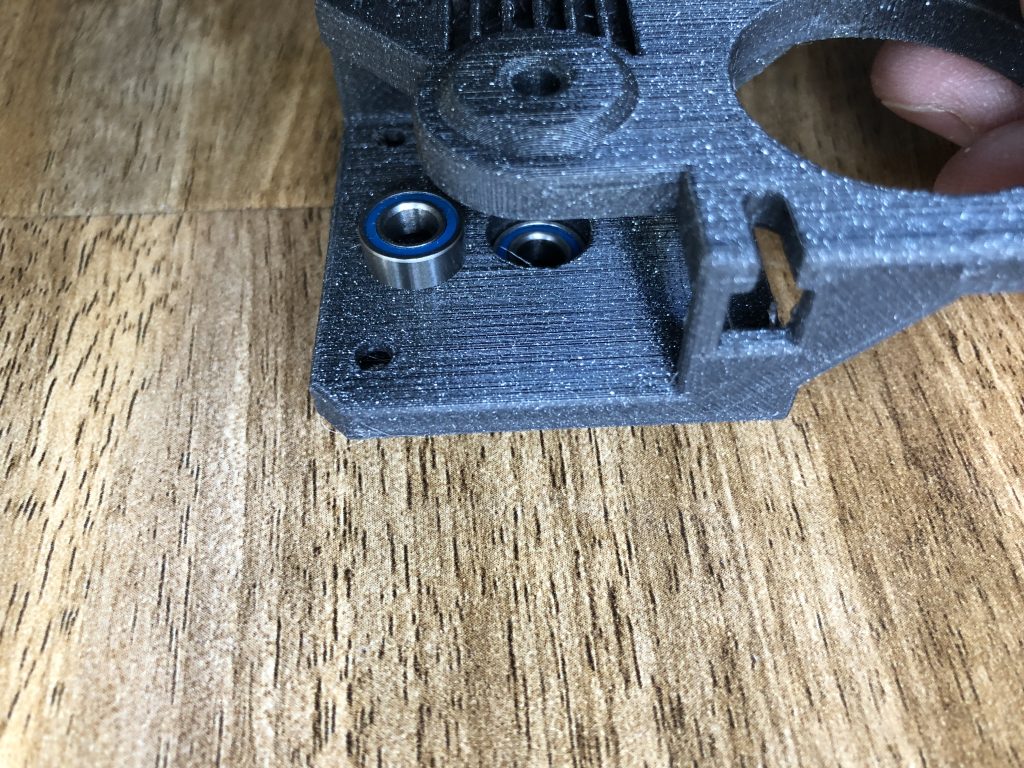 Insert two bearings to the front, bearings shouldn't be flush fit as seen on the right picture.
---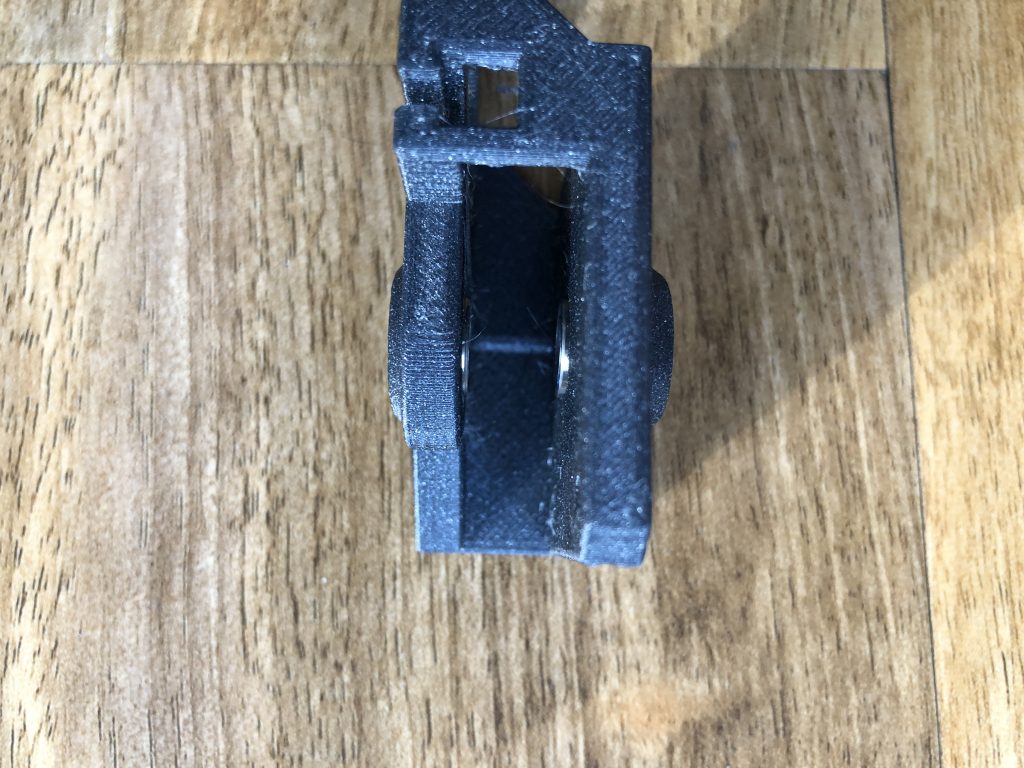 Insert one bearing to the back.
---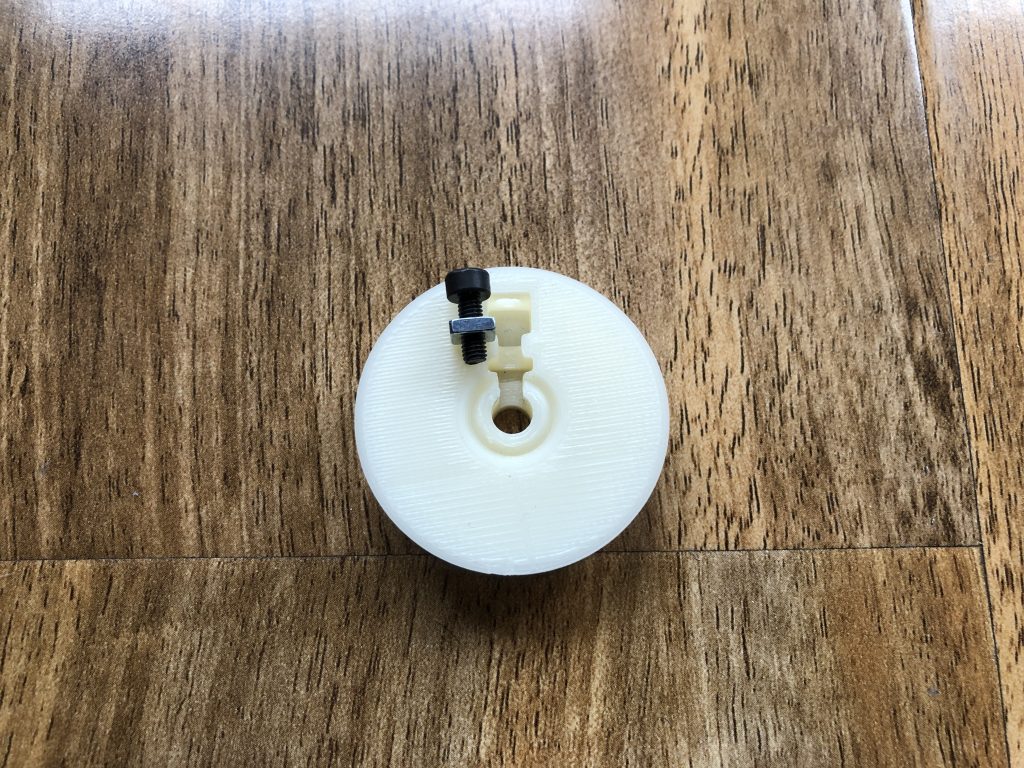 Insert one m3x8 screw with a square nut to its place on the wheel. Push it to the back.
---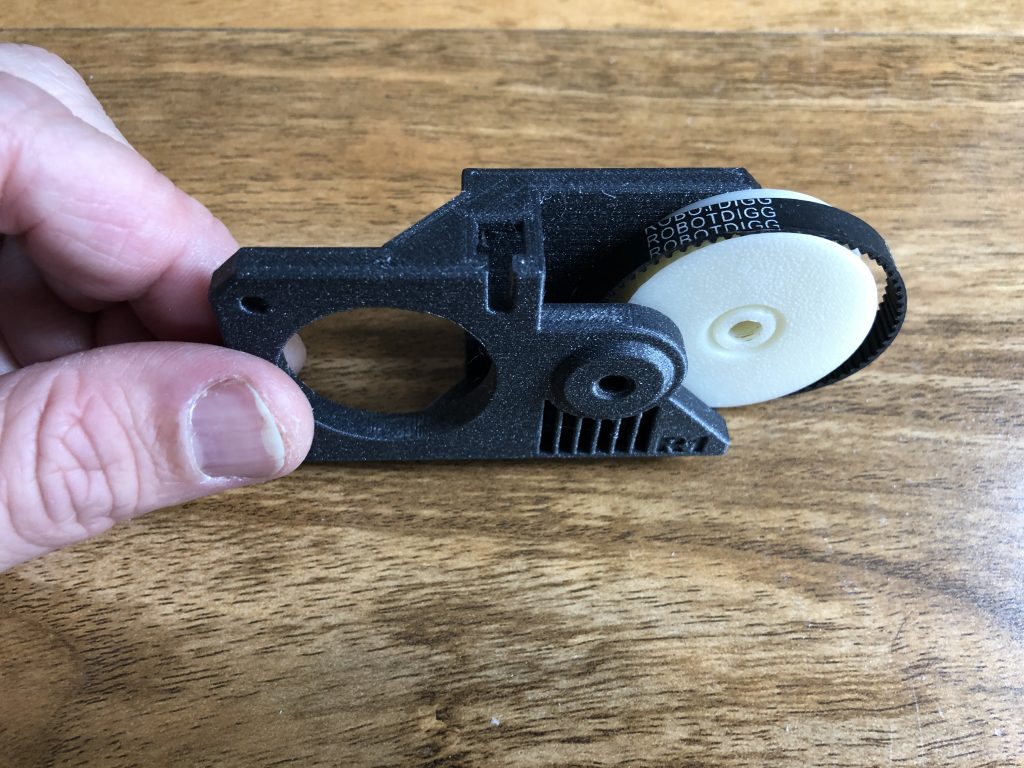 Push the wheel in the gear housing with belt assembled. Align the holes. You will feel sort of a click when the wholes are aligned. The wheel will be free to rotate.
---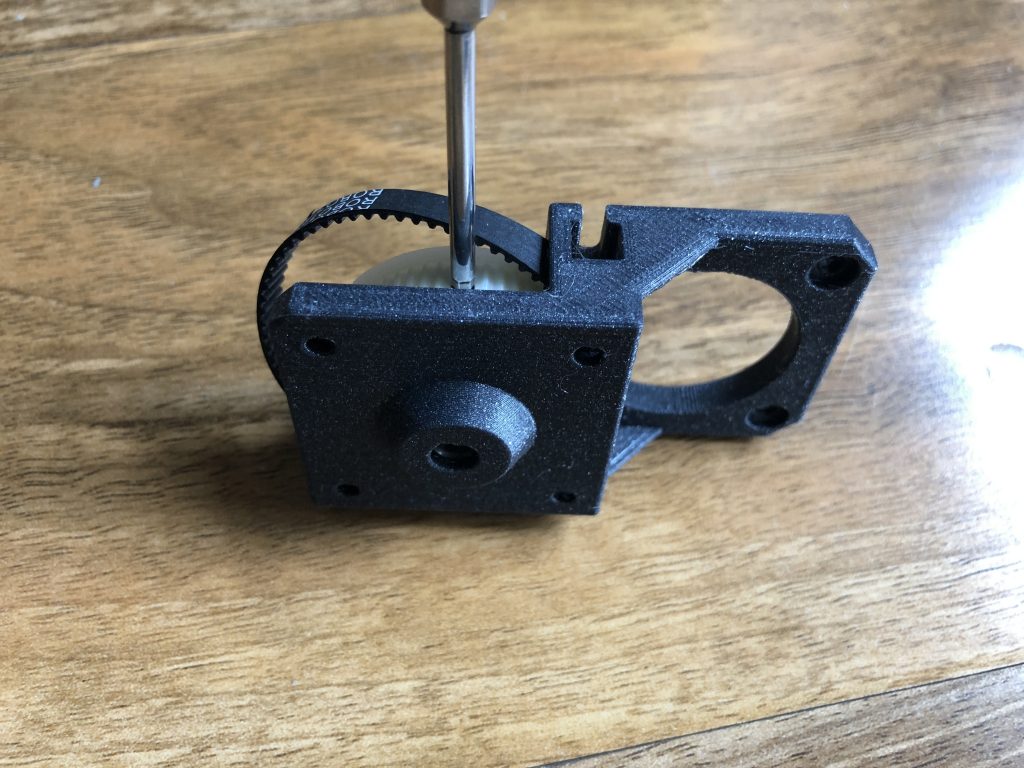 First, fully loosen the set screw on the wheel to be able to push the shaft in.
---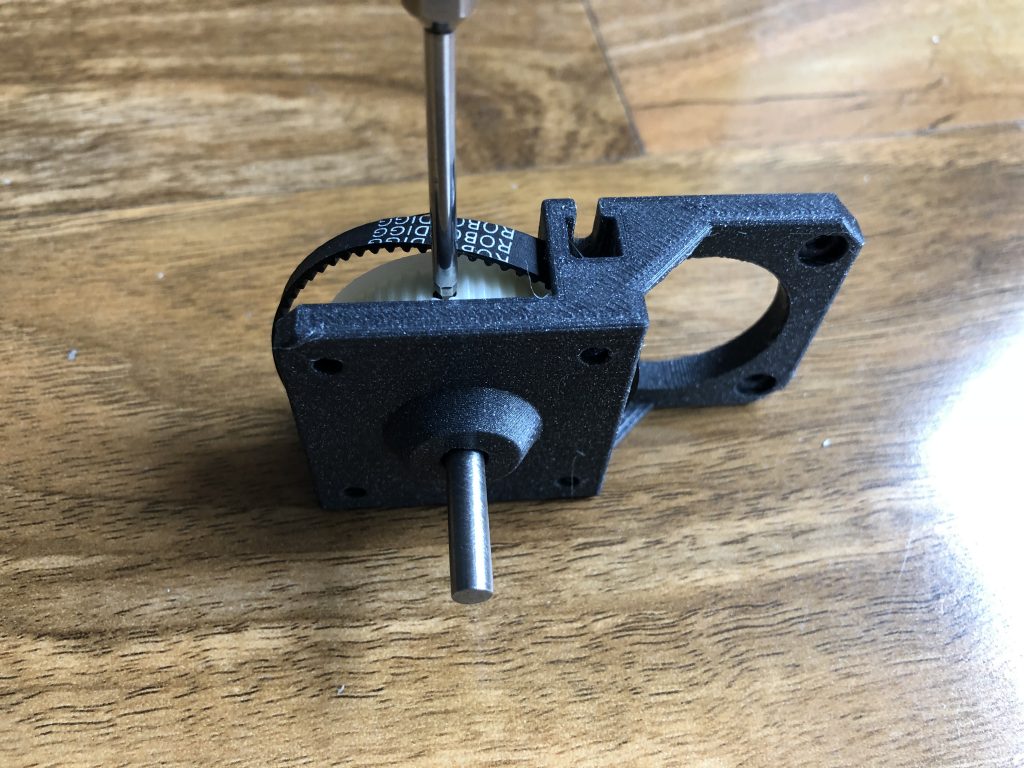 Push the shaft in and tighten the set screw on the wheel. Do not tighten too much as it is a plastic part, you may break or skew the wheel. We had to sand the shaft a bit in order to make it 4.9mm instead of 5mm to fit the bearings. You can use a drill or a motorized screwdriver to sand the steel shaft. Actually a D shaft will be a better choice. If you can afford a D shaft go for it.
---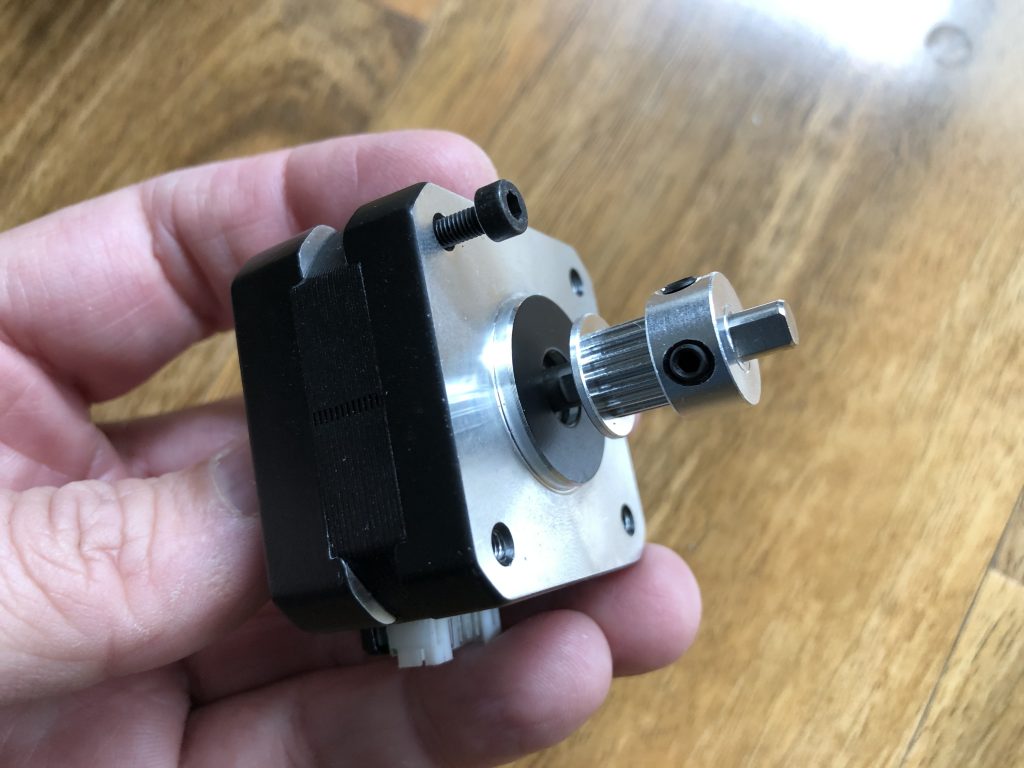 Insert the pulley and put one screw to the left top hole.
---
Push the motor to its place in an angle as seen in the picture. Align the motor to its position and align the pulley with the belt and tighten the set screws. (there are two set screws on pulleys)
---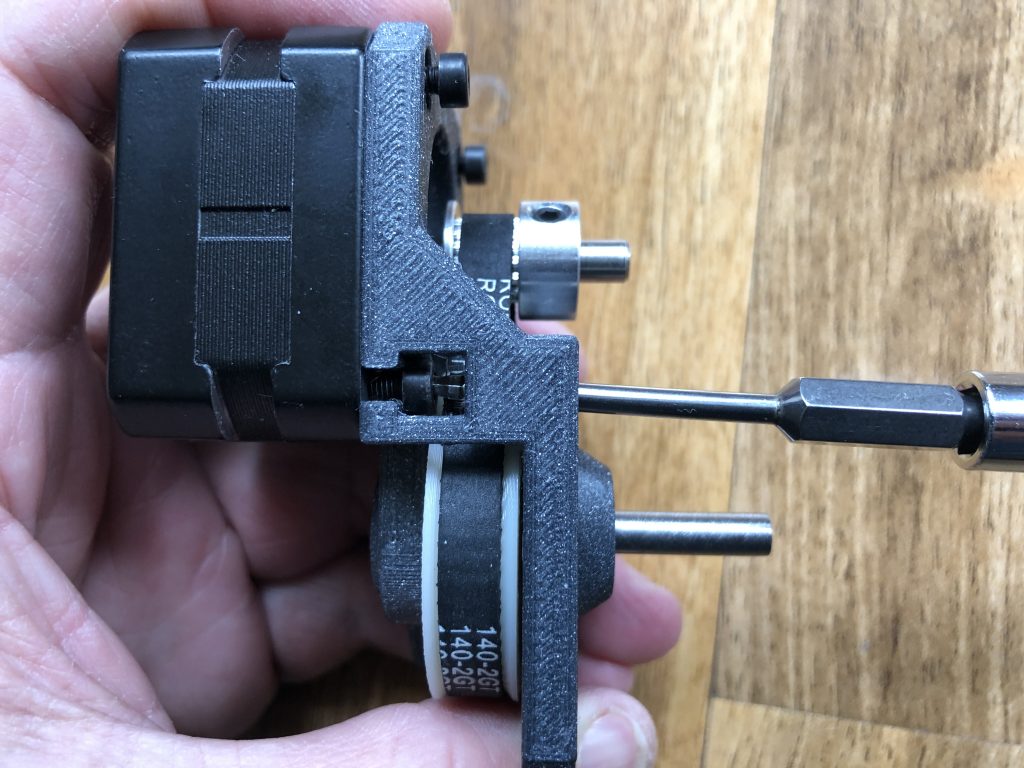 Now you can put the remaining M3x8 screws and tighten to fix the motor in its place. As you see we can tighten the first screw through that front hole. We will insert a square nut there so you won't be able to unscrew from that hole again. You can use a ball head hex from the side if you will need to disassemble it.
---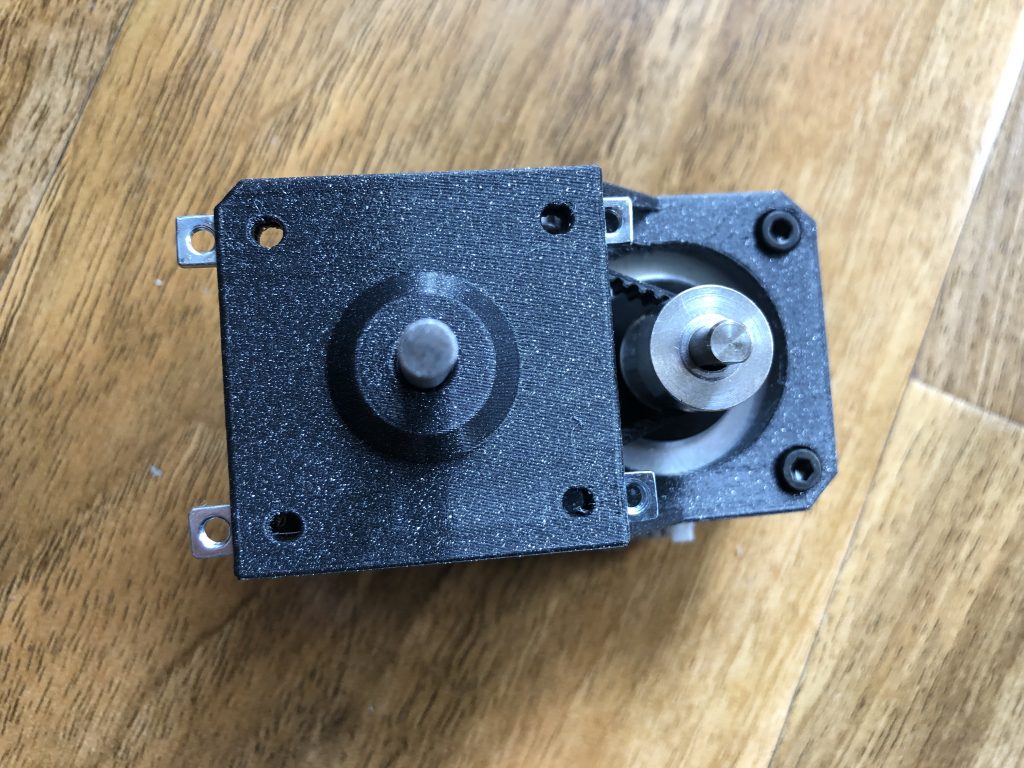 Lastly, you can insert the square nuts.
---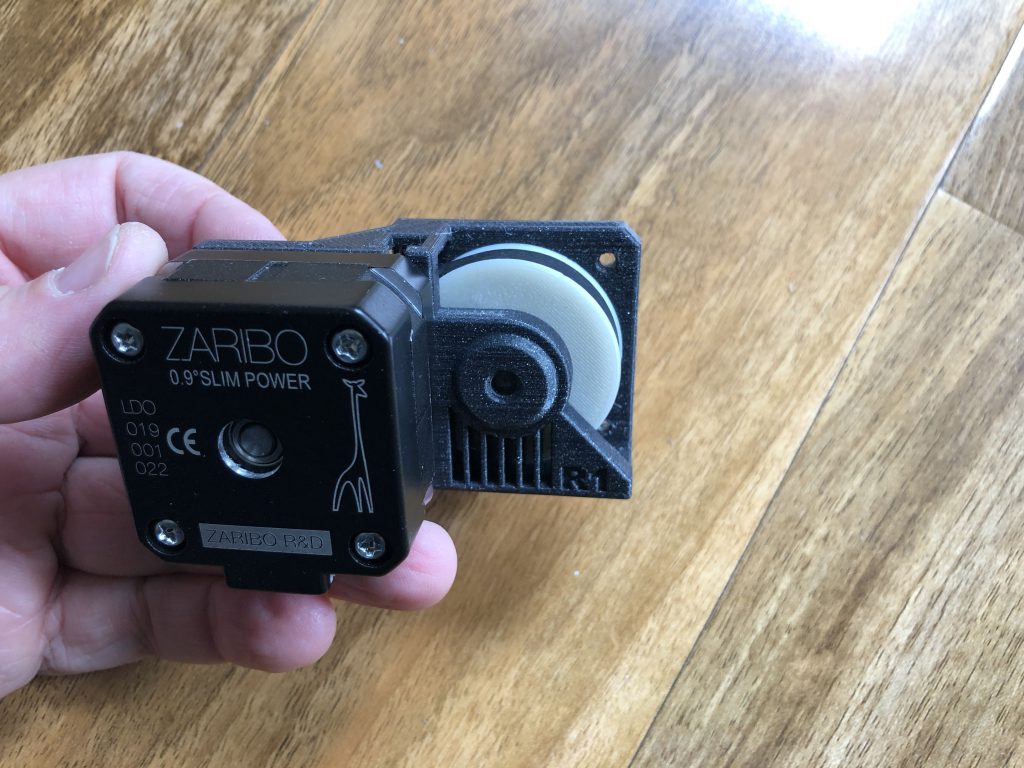 Your Zaribo Geared Extruder Motor is ready to use!
---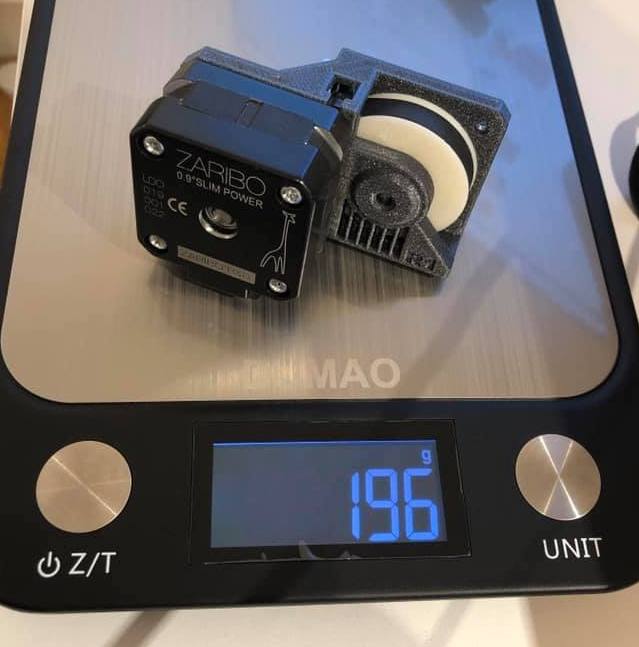 The whole extruder motor design is 80gr lighter than default Extruder Stepper Motor which is 276gr.
---
After assembling your Zaribo Geared Motor, there is one more thing you have to do. You have to tell your printer that the E motor step values are different. Zaribo Pancake motors are 0.9 degrees, thus you have to enter M350 E8 command through terminal. I used Octoprint Terminal windows but you can use Pronterface if you like. If you are using your default extruder motor from Zaribo or Prusa, please use E32(default) instead of E8.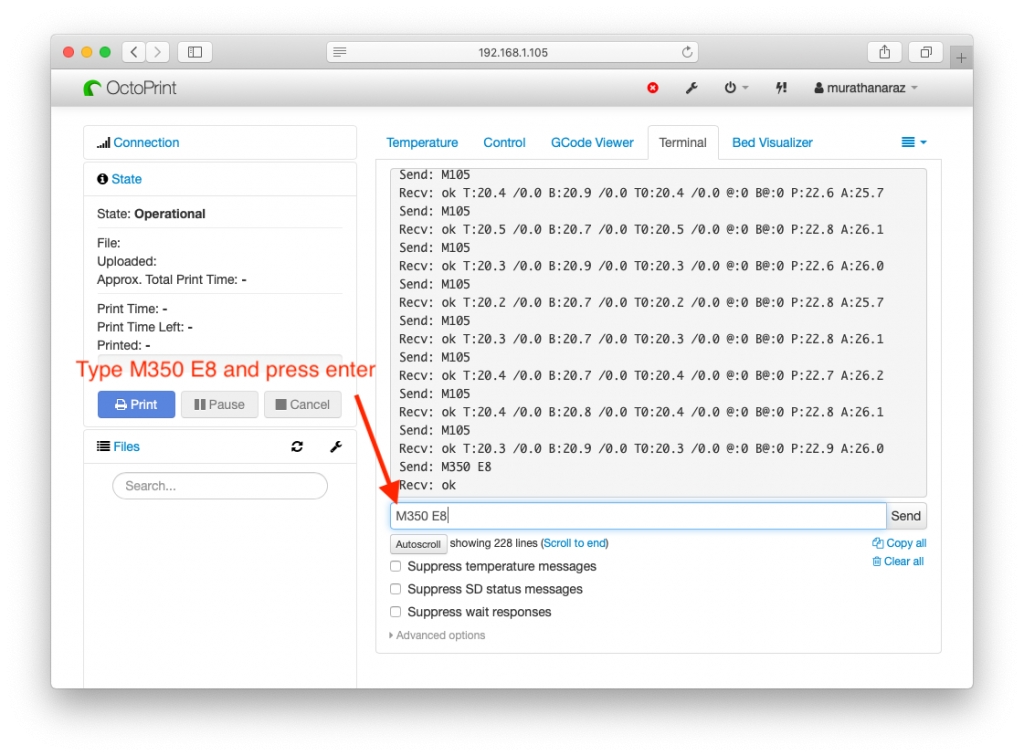 Now type M92 E537 and press enter.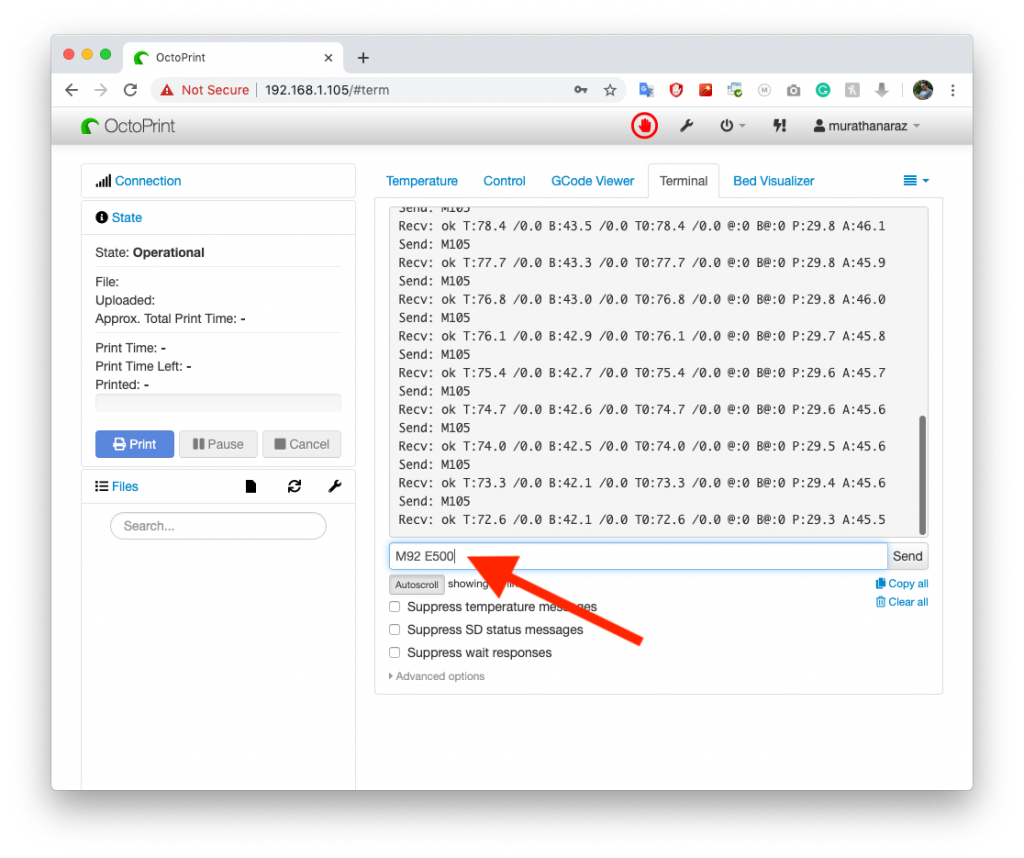 We told our printer that our motor step value is 8 and our extruder motor steps/mm value is 537.

The gear ratio of the larger wheel we used is 54:16 which is 3.375. Please refer to https://e3d-online.dozuki.com/Guide/Extruder+steps+per+mm/96 On this page you will find the calculation method for this step per minute value. According to this calculation, the default value is 473 however as seen on step 2 you should measure the movement of your extruder and fine-tune it.

---
Now enter M500 to save that information on your cards EPROM and see the values are successfully saved.
---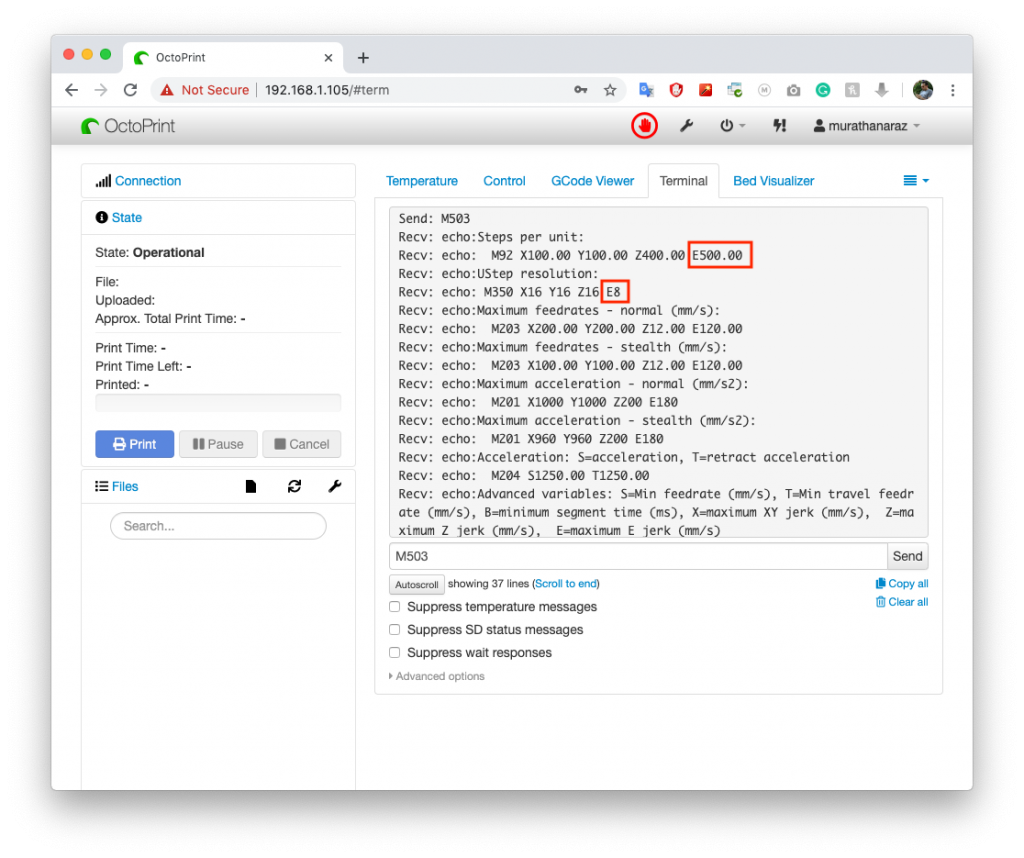 You can check with M503 command as above whether it is successfully saved or not.

Your Zaribo Geared Extruder Mod is completed. Enjoy!

Murathan Araz
---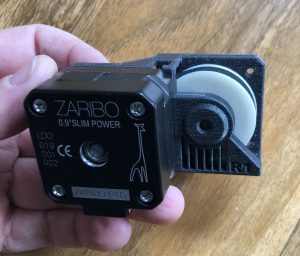 Follow us
We will keep you updated