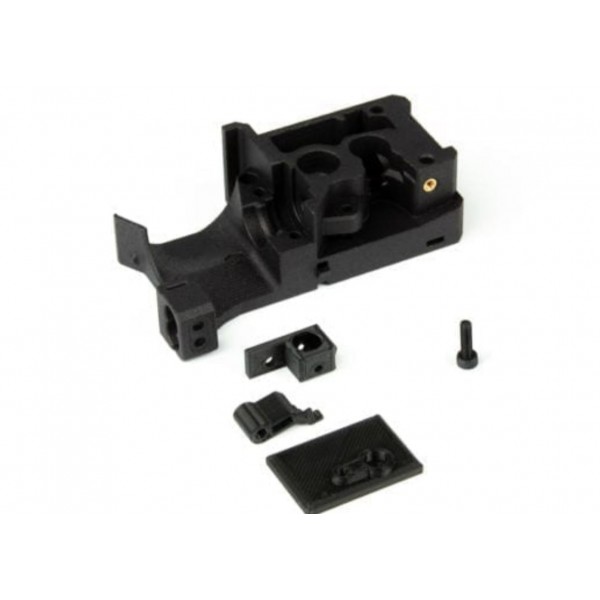  
Extruder Body Rebuild Set for MK2.5/3 Upgrade
This Bondtech Body Rebuild Set is only for customers who previously bought a Bondtech MK2.5/3 Upgrade Kit and have a Prusa i3 upgraded to MK3S.

Privacy Policy

Delivery Policy

Terms and Conditions
PRUSA'S UPGRADE KIT TO MK3S REQUIRED
Do not buy this product if you didn't upgraded your Prusa i3 to MK3S already.
NEW X-CARRIAGE KIT REQUIRED
There is a new X-Carriage design that will properly route the new IR filament sensor cable.
You can buy the X-Carriage Kit here.
Or you can download the STL files from the MK3S Upgrade Kit's Resource Section and 3D print it yourself.
---
UPGRADE FROM BONDTECH MK2.5/3 TO MK3S
This Rebuild Set contains only the necessary parts to update the previous Bondtech Upgrade Kits for Prusa i3 MK2.5/3 to the MK3S design.
The MK3S upgrade was necessary because Prusa i3 MK3S features a new integrated IR filament sensor that doesn't fit the previous Bondtech designs.
BODY REBUILD SET CONTENT
It includes:
1x Black SLS printed MK3S Extruder 

Back Housing

;
1x Black FDM printed MK3S Magnetic Lever;
1x Black FDM printed MK3S Steel Ball Housing;
1x Black FDM printed MK3S Filament Sensor PCB Cover;
1x M3x10 Socket Hex Screws.
It does NOT include:
Prusa's new IR filament sensor and cable