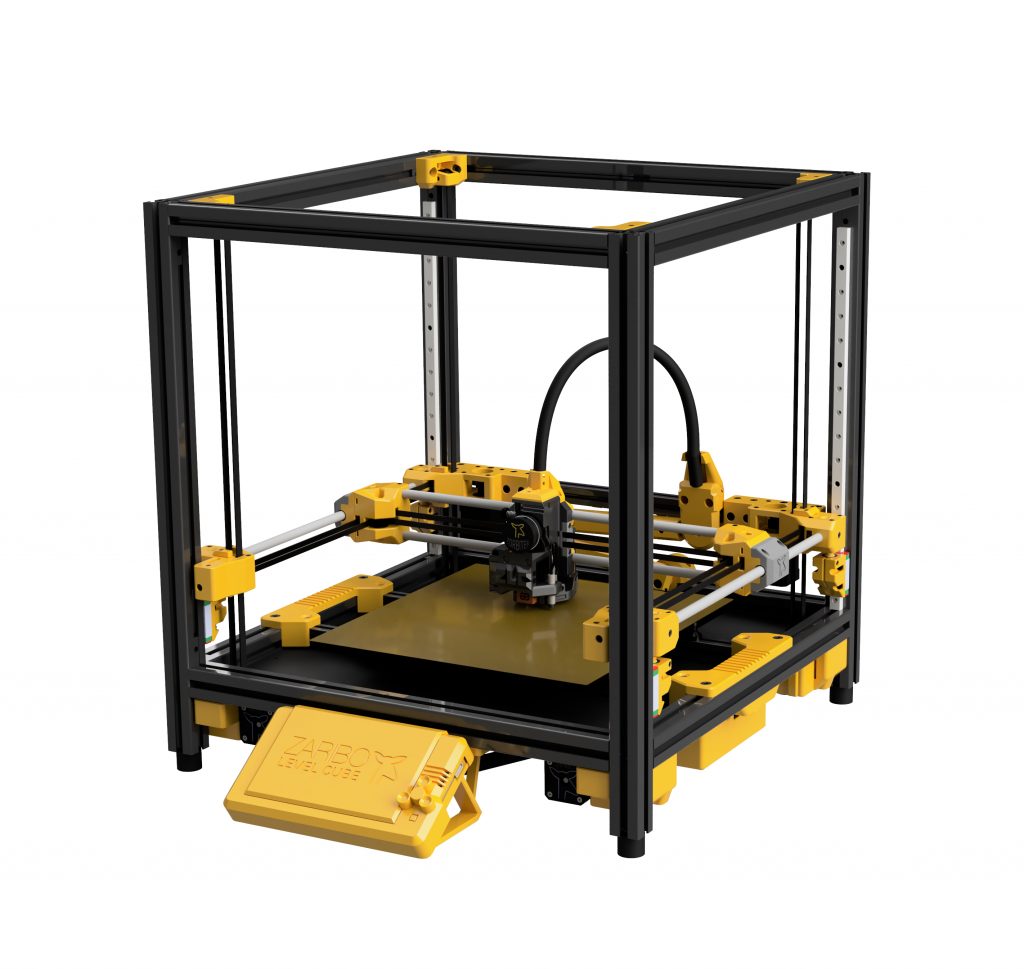 With every new printer, one of most the challenging part is the required print profiles on slicer apps. There are too many filament brands out there and it is almost impossible to test them all and create a profile for each. As Zaribo is part of the Prusa ecosystem, we designed this printer to be compatible with the awesome open-source PrusaSlicer app. So your Original Prusa MK3 and Zaribo Mk3 slicer profiles are compatible with Zaribo Level Cube. Maybe you may need to make some slight alterations such as reducing the blower fan speed due to the 7000rpm blower.
In short, we were dreaming about a printer that is as high-quality as a Zaribo printer, as simple as a Prusa printer and as sophisticated as a Voron. Let's go on with some highlights…
---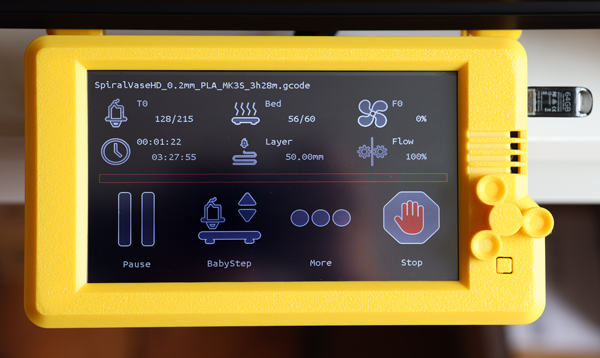 LCD Controller
We designed a custom interface for Bigtreetech TFT70 (150~new icons) and also compiled a custom firmware for it. We worked in cooperation with Bigtreetech and we need to thank Alan, Luciano and Jason for their help. This LCD supports both SD Card's on the main controller board and the one on itself and plus a USB flash drive. This screen is like a little computer and holds out a lot of opportunities for the future. For instance, it has a wifi port, you can install an ESP32 and control the printer from your browser. TFT70 is also able to control RGB led lights and some other external devices.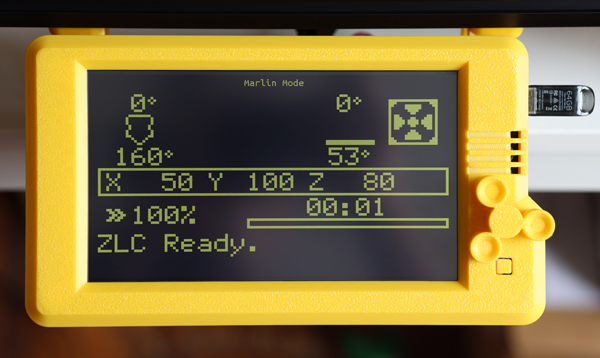 The screen also supports native Marlin text mode 12864 or 2004, so you can easily switch between modes by pressing and holding the knob for 3 seconds.

Zaribo Level Cube is ready for Klipper firmware.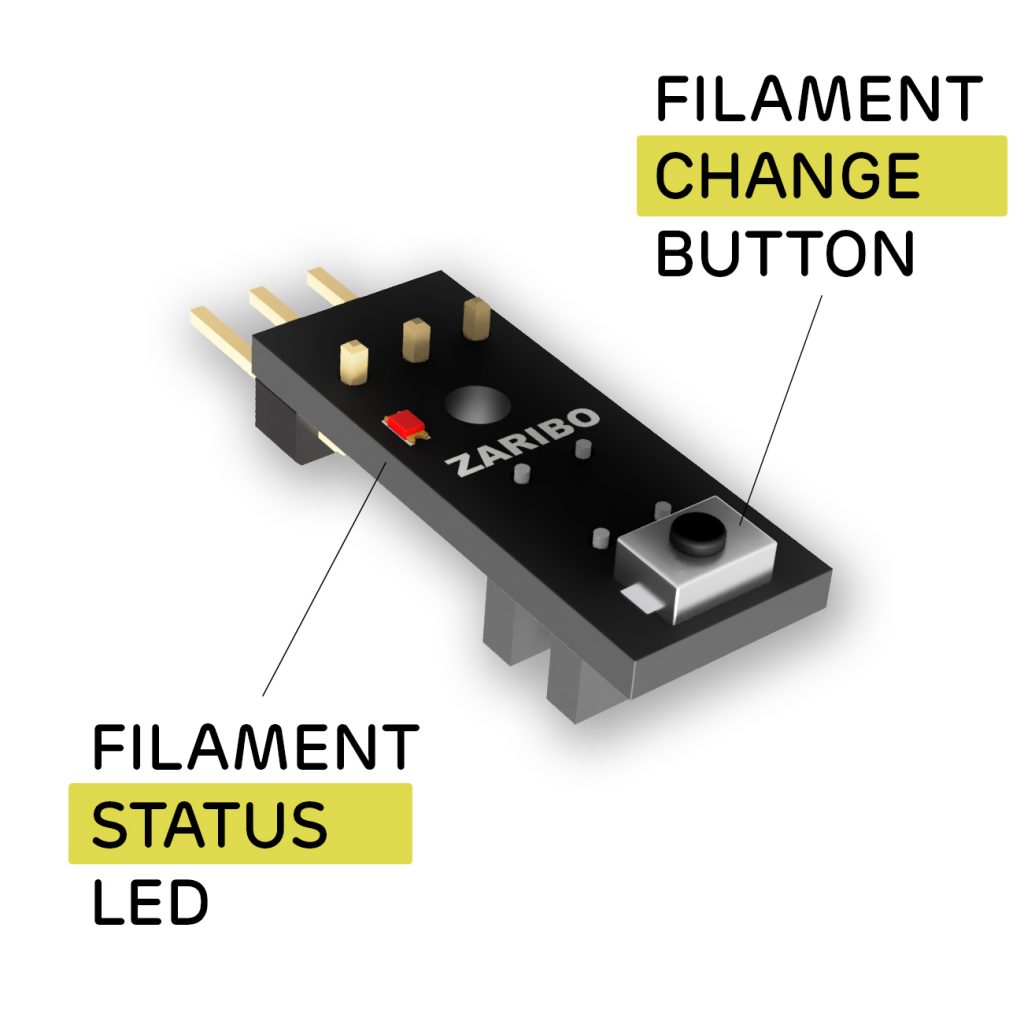 New

Smart Prusa Filament Sensor
We also designed a new filament sensor. (PCB by Fikret Sadak) It is a derivation of the Prusa filament sensor with missing features added. It has a button to let you change the filament quickly during the print. And also it helps you to test the sensor when necessary. The led light gives you the sensor status. It lights up when the filament is in and turns off when you take out the filament…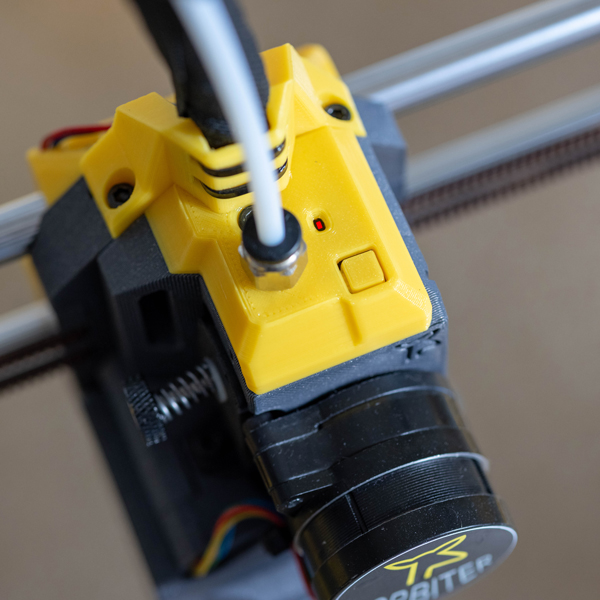 This new sensor is a direct replacement for the MK3 series too. So you can hot-swap your current Filament Sensors on Prusa MK3, Zaribo and Bear mods with this new Zaribo FS. Zaribo Smart Filament Sensor is v0.4 so your printer can identify and report its status.
We designed 3 different filament sensor covers with a button and led light for stock Prusa R6 Extruder, Zorbiter Extruder and Bondtech Extruder. All are available at https://zaribo.com/blog/download and prusaprinters.org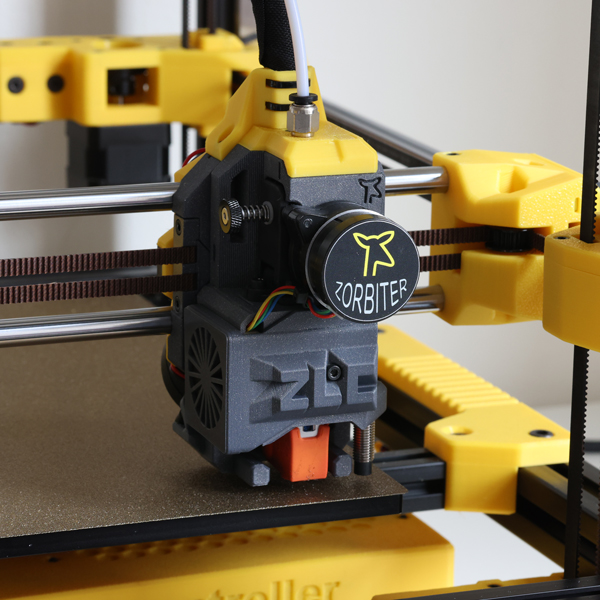 ZORBITER Extruder
Probably you already know about the Zorbiter Extruder, we designed it for Zaribo and Prusa MK3 series first, and after getting successful results we applied it to Zaribo Level Cube. The main difference with the MK3 design is the blower fan and the shroud. We took the fan to the back because it was the most annoying thing for us to not be able to see the nozzle during print. We all know sometimes we have to see and clean the nozzle during the print in case of oozed filament around it.

Zorbiter Extruder on ZLC has a 7000rpm 24v blower fan which gives you amazing bridging performance. And the fan shroud that we designed blows the air directly where it should be blown.
Also as seen in the picture, the extruder has a dock in front. When you remove the front cover (which has the ZLC logo), you will find two m3 screw holes for extra accessories such as Input Shaper, Camera or LED lights.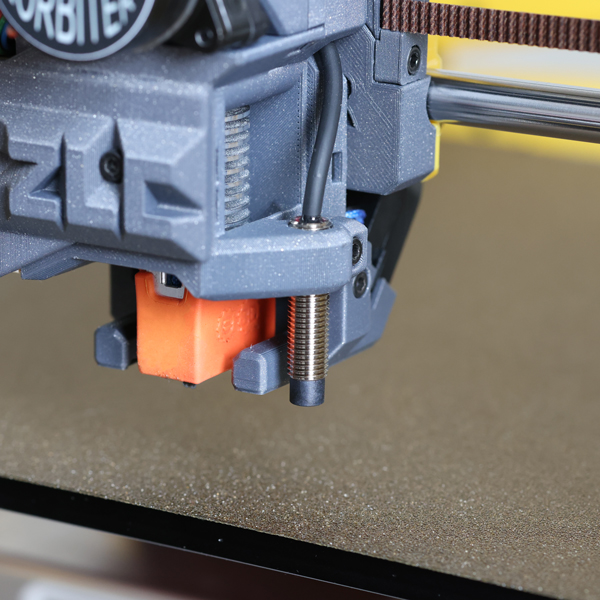 Induction Sensor a.k.a SuperPinda
We tried many other sensors before this one including BL Touch. The cheap induction sensors sensitivity is affected by the bed temperature while auto bed levelling. Due to this issue, Prusa went through several walkarounds such as coming up with a sensor that has a thermistor in it (PINDA V2) and tried to compensate for the temperature-related sensitivity fluctuations. But unfortunately, it was not as reliable as expected.

BL Touch was a reliable alternative for ZLC however it was slow due to its mechanical structure and it has the risk of breaking the pin during an unexpected print failure.

So in the end, we used this high-quality temperature resistant 8mm inductive sensor which works like a charm.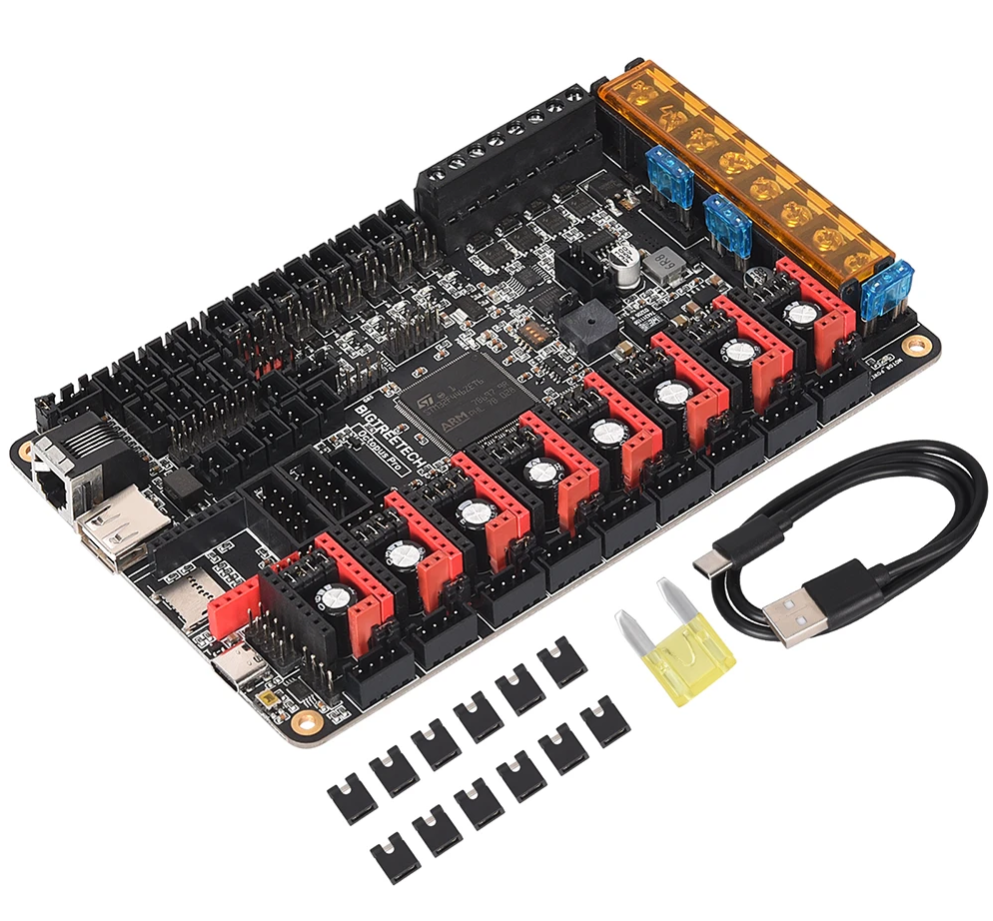 Controller
ZLC uses Bigtreetech Octopus Pro Controller with TMC2226 Drivers.
When we first started to design ZLC, there were no boards available for 7-8 drivers so you either combine two boards or use an external stepper driver board. First used SKR Pro with 6 stepper drivers and added an external driver board. Then tried the FLY board with 9 drivers.

Later, we decided to design our own Zaribo Motherboard. LDO manufactured the first samples of Zaribo boards for us. (Thank you, Jason and Rebecca) However, in the meantime, these Octopus and Spider boards started to show up in the market, so we postponed the Zaribo board and moved on with Octopus Pro.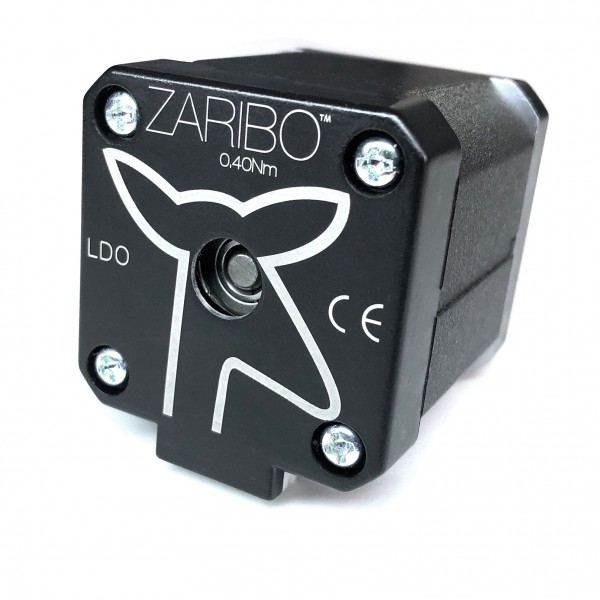 Stepper Motors
1.8-degree high torque NEMA 17 Zaribo stepper motors by LDO.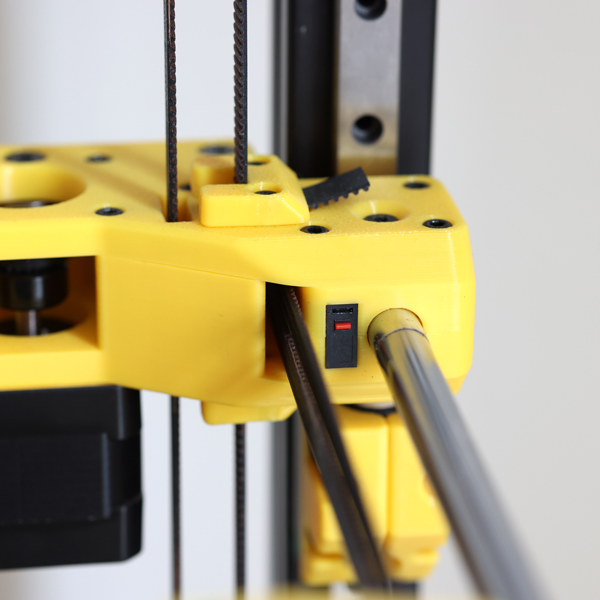 Limit Sensors / Endstops
The first version of Zaribo Level Cube was offering sensorless homing with TMC2226 Trinamic Drivers. However, the sensorless homing on a Core XY mechanism is not reliable due to the structure of the movement. When X-axis homes, it makes the Y-axis jump between 0.5mm to 4mm randomly. When I home Y-axis first then the X-axis jumps. I tried everything but there is no way to overcome this issue.
We tried to find a sweet spot by adjusting bump sensitivity, homing current and speed, however, couldn't get success. We always got false triggers or jumps on the axises. Trust me, I resisted a lot to keep it sensorless however it is only possible if you reduce the homing speed to a ridiculously slow speed which is unacceptable on such a large printer.
So we used these low profile end stops without compromising the simplicity and the clean look of ZLC.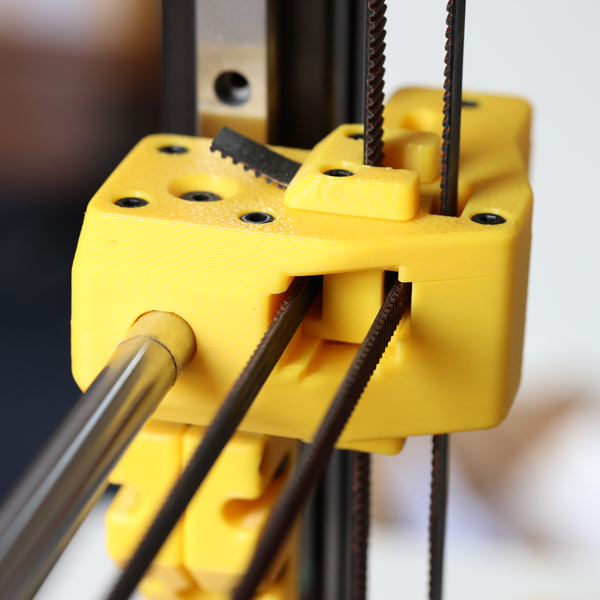 Again, trying to keep the simplicity and the clean look of ZLC we designed hidden belt tensioners that are very easy to manage.
No Dovel pin required. You can use M5 Low Head Screws as a shaft for the idler puller.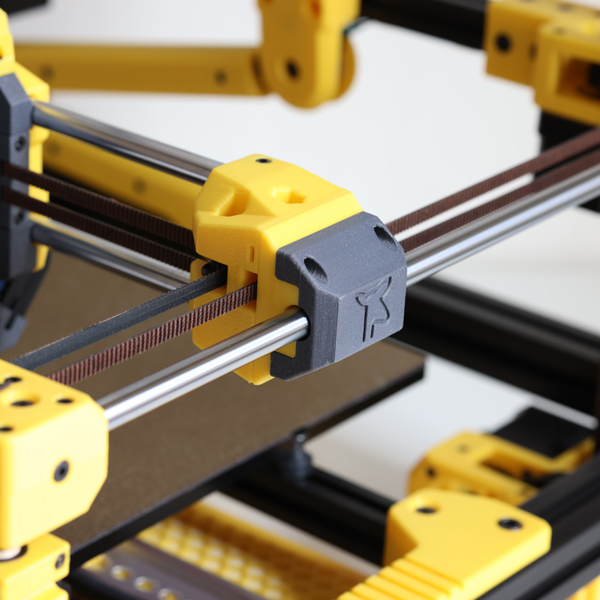 Linear Movement
The first version of Zaribo Level Cube was full of rails. There were seven MGN12 rails including the gantry. Advanced 3d printer builders/users would know that finding smooth and high-quality rails is a hassle. The good ones were very expensive. We overcame this by having manufactured Zaribo MGN12 rails with the optimum high-quality needed for our 3d printer environment.
However, linear rails are meant to be mounted on a surface with many screws so they do not have a quality standard for straightness. For this gantry design on ZLC, we need straight linear movement without extrusions because we want it to be as simple and as reliable as it is possible. So we went for Misumi straight series PSFU rods which are made in Japan with the highest precision available. Rods on Y-axis also makes it much less constrained for 4 independent Z-axis movement.
The biggest challenge was using single rods on Y-axis on a gantry which is like a peninsula with ball joints at the corners. We wanted to keep the front of the gantry open as they did on Voron. We overcame this by using Misumi Collets inside the plastic parts which are turned out incredibly sturdy.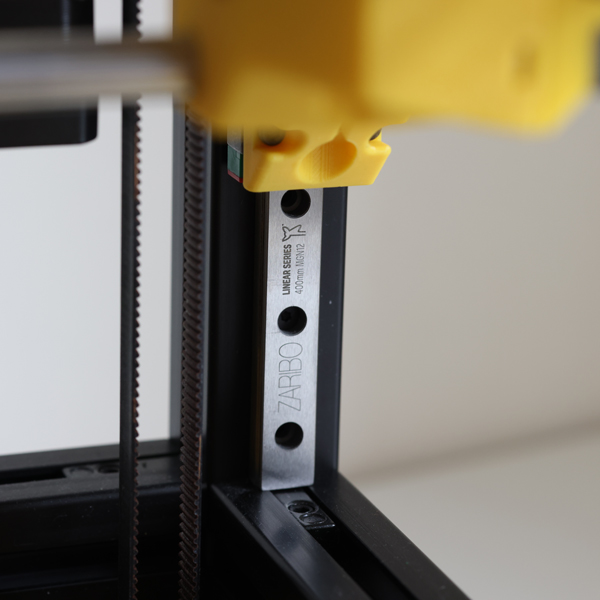 The smooth and high-quality MGN12 Zaribo rails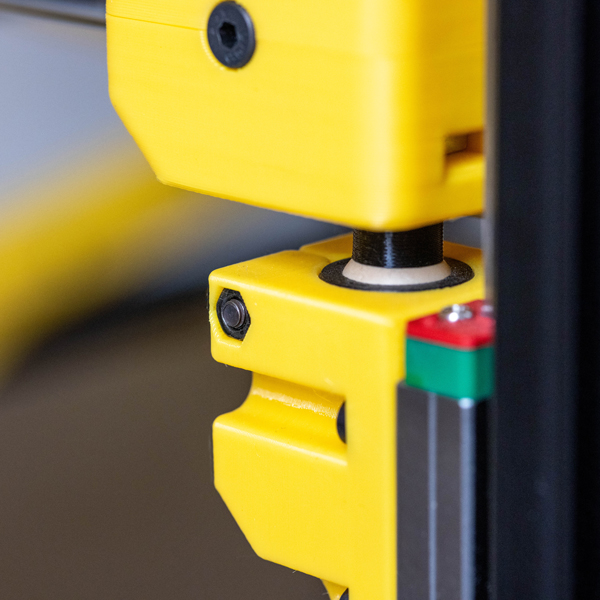 IGUS Joint bearings on the corners for smooth movement during quad gantry levelling.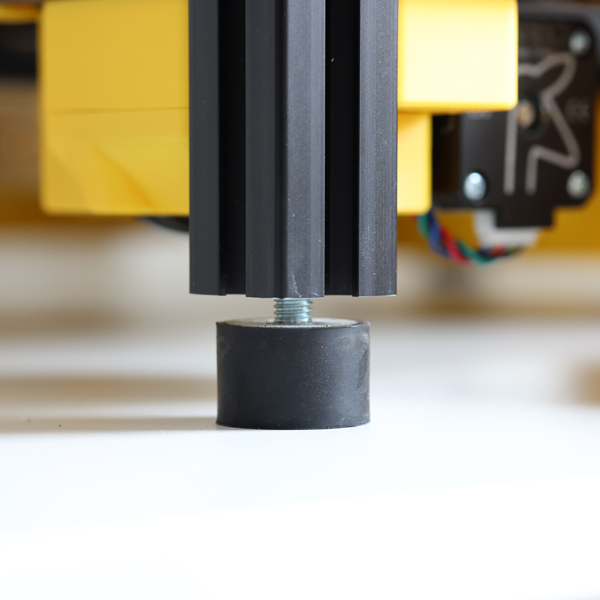 ZLC has 520x520x550 external dimensions. We used M8 dampers by Misumi to let you adjust it to sit properly on the surface you placed it. An uneven surface will cause unwanted vibrations, with height-adjustable dampers you will be able to level your printer as supposed on any surface.
---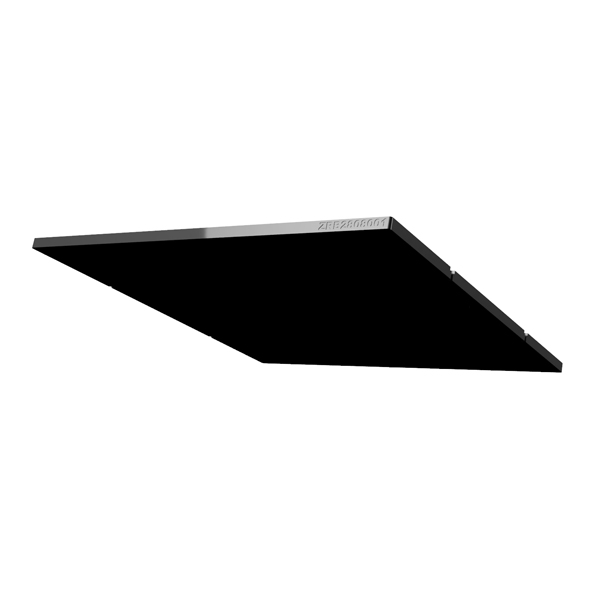 Another important part was the build plate for sure. We have tested 12 different plates from various manufacturers and some were very poor in terms of flatness and the rest were just "okay".
We finally found a manufacturer who is capable of manufacturing high-precision aluminium plates. This company is also manufacturing aluminium plates and discs for world-renowned electronic brands.
The plate offers very low tolerances which are below your printer's Auto Bed Leveling limits. It comes with custom shaped magnetic base and a two-sided spring steel sheet, one side textured one side smooth.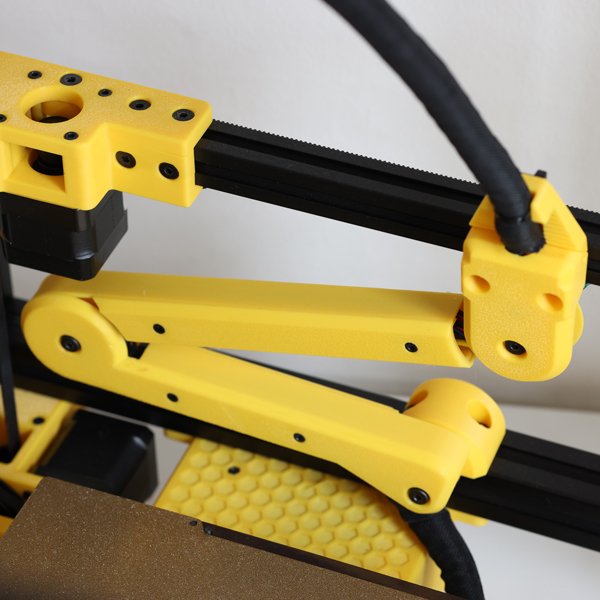 Gantry Cable Management
Cable chains are the most common cable management system on Core XY printers. We wanted to think out of the box and design something different. This is what we ended up. There are two mr105zz on each elbow and an M5 ultra-low head screws as the middle shaft. Easy to disassemble when necessary.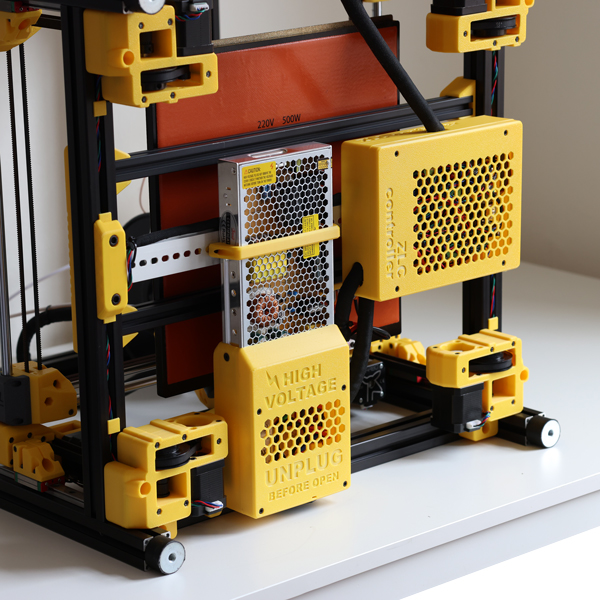 Electronics and Wiring
Zaribo Level Cube powered by Bigtreetech Octopus Pro controller equipped with TMC2226 Drivers. The aluminium plate is heated by a silicon heater pad which works with mains voltage. The SSR is assembled within the PSU housing to make it more secure and easy to wire. There are Wago connectors within the PSU enclosure to distribute the incoming power. We tried to design it as simple as possible. Wiring instructions will be available on https://zaribo.dozuki.com with all other build tutorials.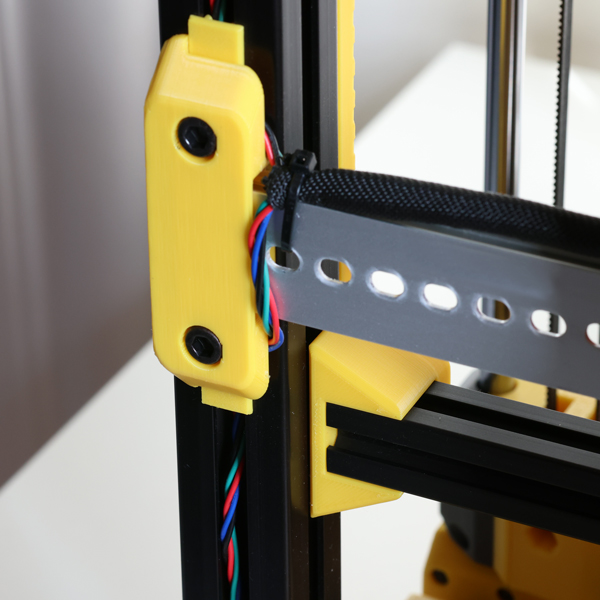 More Safety
We isolated the DIN rail and heated bed from the frame to ensure better electrical safety. The heated bed is also supplied with a 130c thermal fuse in order to prevent overheating in case of a thermistor failure.
Ready to Enclose
We especially took extra care not to let any part of the design overflow the frame edges so it can be enclosed easily. The Enclosure design is ready, we will share them soon so everyone can order the plexiglasses from their local suppliers. we are planning to offer these on Zaribo.com after finding a reliable and affordable supplier.
Happy printing!
Murathan
Some Print Results with PrusaSlicer Default Profiles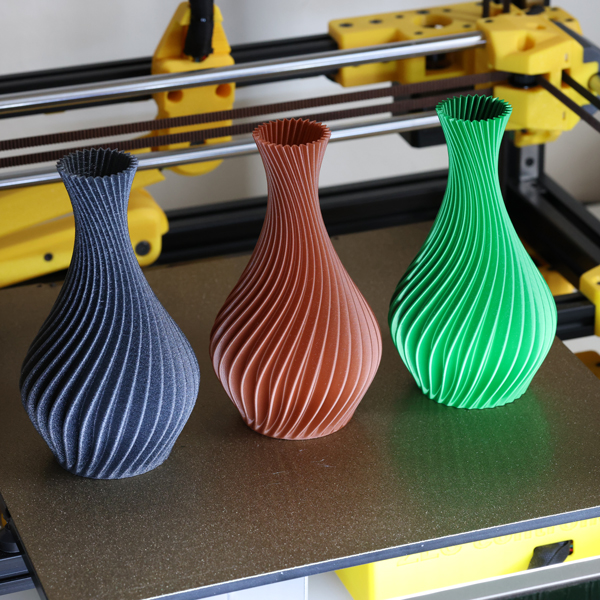 ---
---
---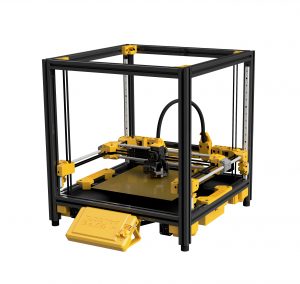 Follow us
We will keep you updated